Who doesn't want to be innovative? If you asked a room full of CTOs… not a single hand would go up.
But what is product innovation in the first place?
The Wikipedia contributors define product innovation as "the creation and subsequent introduction of a good or service that is either new, or an improved version of previous goods or services."
I guess that pretty well sums it up, but it still begs the question, how do you actually do product innovation? And how does it play out in real life?
Not too long ago — and maybe even still today — it seemed like all you had to do was call your product "disruptive" and VCs would line up to write you checks.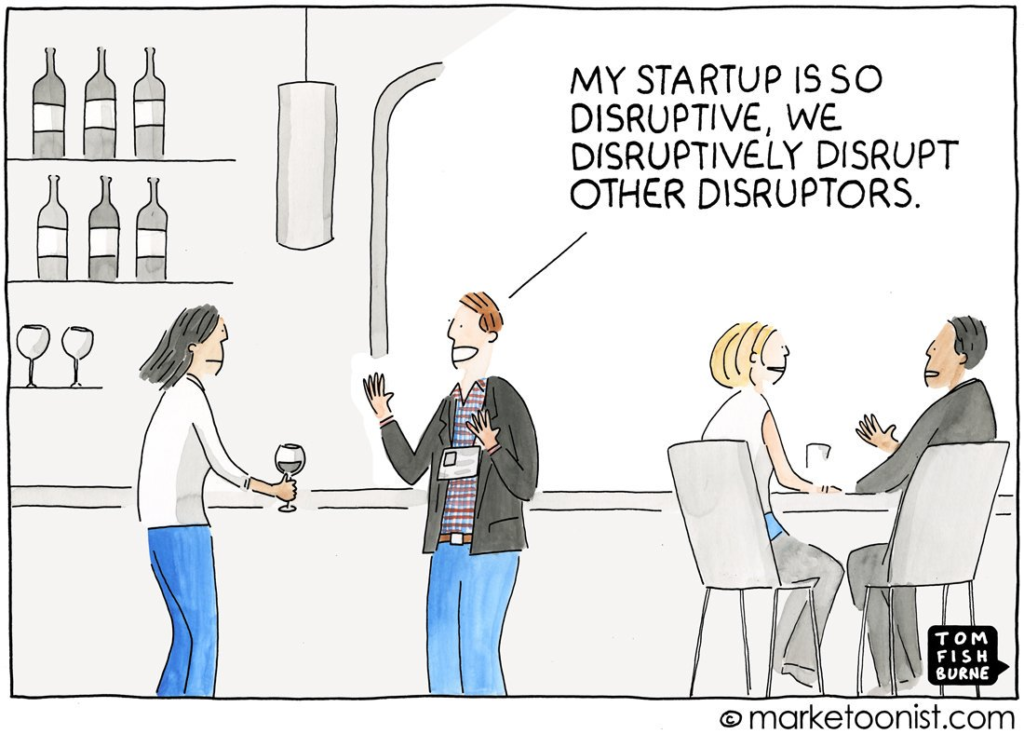 There's far more to being innovative than just using the word disruptive.
"When every innovation claims to be disruptive, disruptive loses its meaning. This is particularly the case in startups, where the word 'disruption' is almost a business pitch requirement nowadays. We have to be careful of the echo chamber in innovation. Most of what is claimed to be disruptive is really just an incremental innovation with a large dose of hubris. Sometimes it's just the hubris." — Tom Fishburne
But we shouldn't discredit disruption altogether. Yes, it's overdone and taken out of context, but maybe it's just one of the ways you can be innovative with your products.
Most think of innovation as thinking of and creating something entirely new, but innovation is actually more iterative than it is inventive. It builds on something else.
In fact, it could be argued that there's nothing entirely new.
Filmmaker Kirby Ferguson goes as far to say that nothing is original and that our most celebrated creators steal ideas and transform them into something new. He even created a popular video series called Everything is a Remix that explores how many of the ideas and things we love are actually derivatives, and that those "original" ideas were derivatives, and so on.
In a similar vein, Austin Kleon wrote a book called Steal Like An Artist about how to come up with creative ideas. And it has nothing to do with sitting in an isolated room for hours brainstorming completely original concepts.
I'd like to propose a similar idea that product innovation is achieved through remixing, "stealing," and iterating on other ideas.
There's a common misconception that if your product isn't "100% original," it doesn't stand a chance. Firstly, we've already debunked the myth of being 100% original because everything is built on or an iteration of something else. Secondly, it's not a zero-sum game. In other words, there can be multiple winners.
Facebook, Instagram, and Twitter are all winners. Salesforce and HubSpot are both winners. Chrome, Safari, and Firefox are all winners. And each serve different kinds of people (and businesses) with different needs.
Especially for "product people," it's easy to overthink what makes a product innovative. There are many opportunities and strategies you can use to make your products and features more innovative without having to reinvent the wheel.
Here are the 11 frameworks you can use to think about your own product innovations and examples for each.
And for each framework, think of how you can:
Deliver more value to the user
Reduce friction to receive that value
Note: These are written with SaaS and software products in mind, although many of the principles apply to other types of products as well.
1. Disrupt
Disrupt: New technology, model, or brand for a market dominated by old, large incumbents.
True disruption happens in a market where the incumbents have stopped innovating and there's pent up demand for something new. This pent up demand causes both a shift in perception and a shift in market share from the incumbents to the new challengers.
Disruption Examples
Dollar Shave Club showed that extremely affordable razors, viral marketing tactics, and fresh new brand appeals to a younger demographic and could eventually challenge larger companies like Gilette.
Intercom exemplified this with their CRM and messaging tool for the next-generation of SaaS and software companies. Salesforce just didn't cut it anymore for this new breed of companies.
Webflow decided to build for the designer and cast a vision to democratize creation on the internet with a completely visual workflow interface when everyone was used to editing code and asking for help in WordPress.
2. Program
Program: Replace a spreadsheet, document, or digital record.
Ross Simmonds talks about the unbundling of excel — which was also originally coined by Tomasz Tunguz — and how they're a goldmine of opportunity.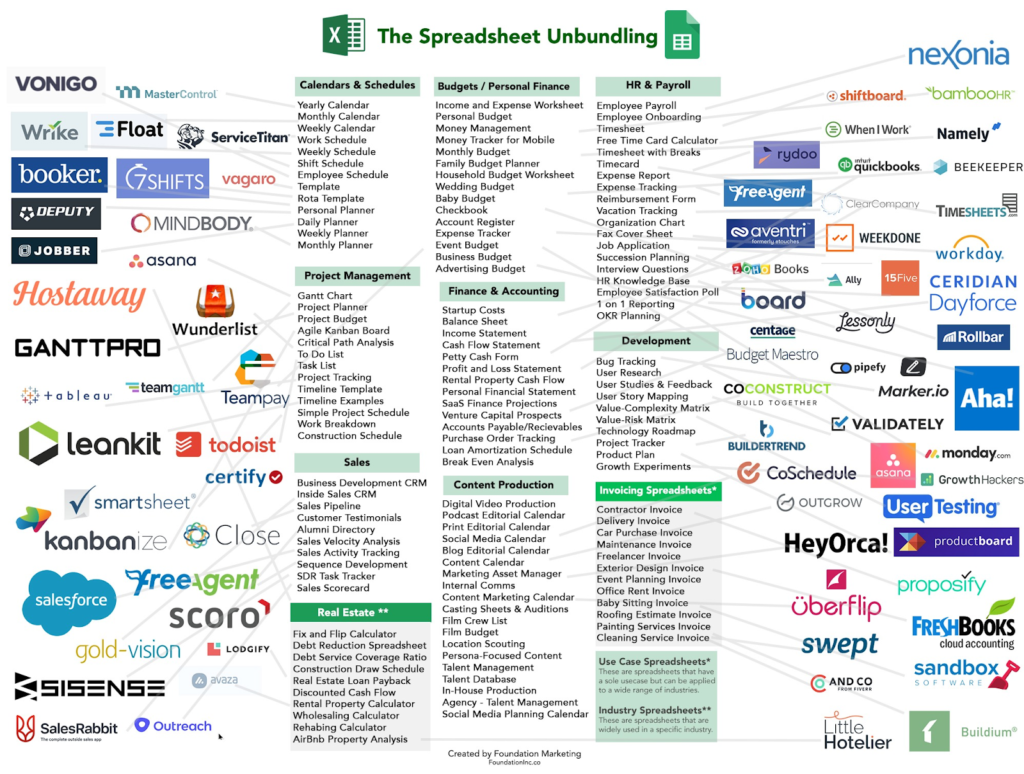 Spreadsheets are used in every industry, have near-unlimited use-cases, can be tailored to specific needs, and have virtually no onboarding thanks to decades of usage and education in academic environments.
They're widely adopted, often what companies switch from, and sometimes what companies even switch to.
The same holds true for documents. Word and Google Docs have a huge variety of templates and are also widely adopted and used by businesses of all different types.
And the program framework can be used in any sort of standardized digital record that has been customized and templatized to meet the specific needs of someone.
Programming Examples
NomadList started as a shared spreadsheet for digital nomads. Now it's a one-man profitable business reaching millions.
Airtable is essentially a glorified spreadsheet. Now, it's much more. But people switch from their boring old stale spreadsheets to Airtable for its flexibility, ease of use, integrations, and templates.
Also think about how your customers may be using spreadsheets in their workflow with your product and how you can program that into a feature to accelerate how they use spreadsheets with your product or even eliminate it altogether.
3. Automate
Automate: Replace a person or manual process.
Positioning expert April Dunford once said, "your product might be easy to use, but not easier than having an intern do it."
There's often a big difference between "competitors" and "competitive alternatives." A competitive alternative isn't exclusive to spreadsheets and standardized documents. It also includes people.
There are many jobs that have arisen because of tech: social media coordinator, data entry, virtual assistant, just to name a few.
Automation Examples
Any repetitive tasks a person has to do is in jeopardy of being replaced by a machine or computer program:
Ask, "could a computer do this faster than me if it had the right instructions?"
Look for and ask your customers what they're still doing manually.
4. Productize
Productize: Turn custom software into something turnkey and managed
Businesses both large and small build custom software to save money or accomplish something that isn't possible with an out-of-the-box product.
If it's heavily used or others ask to get their hands it, there's likely an opportunity to productize it into its own standalone product or feature.
Productization Examples
RightMessage started as custom code to personalize the site experience, then was shared to other sites to increase conversions and user experience, and then was productized into what we now know as a growing business.
The 37Signals team didn't like the project management software out there so they decided to build their own. Eventually the software revenue started to look more promising than services revenue, so the team doubled down on it and eventually launched as Basecamp — used by over 100,000 companies.
5. Specialize
Specialize: Modify and differentiate general software for a specific underserved subset of the market.

While everyone's trying to build the next billion-dollar market-dominating software giant, specialized software services are quietly carving out profitable corners of the market.

These are the CRM for ___, Marketing Automation for ___, Project Management for ___ products.

https://twitter.com/tylertringas/status/1130589376587673600

Here's a recap of some of Tyler's other thoughts and add some more about the advantages of building specialized software:
Using the right labels and language to communicate clearly with the right market
Build expertise and rapport with an audience
Focus on the problems, pains, and needs of a few instead of many
Marketing and sales dollars aren't spread across multiple industries and customer types
Position your product in the best light against generalist software that can't serve your niche the same way a specialized software can
Specialization Examples
UpLaunch was launched by Matt Verlaque and Jake Johnson — both former firefighters and also CrossFit gym owners. As they began to grow their fitness business they soon realized that there was no software platform available that made it easy to deploy advanced marketing automation strategies and tactics without setting up third party tools. Every tool that already existed was either expensive or extremely complicated and that was just not good enough. Today, UpLaunch provides an unparalleled marketing automation platform just for fitness entrepreneurs.
Copper is the CRM for G-Suite. It's even recommended by Google themselves. They focus on deep integrations with Google products and technology companies looking for a CRM that works well with the G-Suite products they already know and love.
Clubhouse is the project management software just for software development teams. It ties into your existing tools, services, and workflow: get notifications or create a Story in Slack, attach commits, branches and PRs with Stories, build your own integration with our API, and more.
6. Bundle
Bundle: Expand a product offering or feature set to replace complementary tools.
These are the all-in-one's, end-to-end's, and multi-product suites.
Bundling has a few unique advantages:
Progressively replacing complementary tools makes your product more "sticky" as the value is tied to not just one core function, but perhaps several
Expanded features allow for increased prices
Expanded product offerings allow for higher ARPU, additional expansion revenue, and upsell paths
"All-in-one" is a value proposition as many users want a single tool that encompasses the vast majority of what they need
Bundling heavily focuses on becoming more and more entrenched with the customer's workflow and needs.
Bundling Examples
Notion has a lofty goal to take over most of the tools you use to do your work: spreadsheets, documents, project management, calendars, storage, and more. They believe we've duct-taped the tools we use today and that there's a better, more unified, way to work.
Intercom provides products for lead generation, customer engagement, and customer support, as well as an all-in-one bundle that combines the three together. On top of those, they also offer add-on features like custom bots, product tours, an answer bot, and help center articles each for an additional subscription charge.
Housecall Pro offers an all-in-one solution to run your home services business, with features like a website builder, online booking, scheduling, estimates, invoicing, review management, and money management.
7. Unbundle
Unbundle: Reduce or simplify a product offering or feature set to better suit the needs of a market.
Opposite of bundling, unbundled products focus on and build an unmatched experience around a single core function.
And sometimes, less is more. When a software product tries to do too much, it sacrifices in other areas: speed, user experience, intuitiveness, feature bloat, etc.
Unbundling Examples
Balsamiq focuses on building "rapid, effective and fun wireframing software" so anyone can design great interfaces. By focusing entirely on low-fidelity wireframes, they're able to lead the software category and invest everything into this one core value proposition.
Yoast develops popular WordPress plugins to help website owners optimize for search engine traffic. Their flagship Yoast SEO plugin reportedly has over 5 million active installations.
8. Connect
Connect: Bring two parties together who couldn't previously transact or contact each other easily.
This is the classic marketplace model, but it isn't exclusive to marketplace models. These are the ways connection usually plays out in a feature or product:
Marketplace model connecting demand-side to supply-side
Syndication of information or access to information
Facilitating demand for the benefit of customers
Building community between people
Connection Examples
Substack's homepage features the top posts, paid newsletters, and free newsletters of their customers. Not only does it help Substack illustrate the success of their product, it also amplifies the success of their customers by driving subscriptions to their newsletters.
Udemy is both a place to sell your online course and a place for course-seekers to discover courses to enroll in. Udemy will often advertise courses for the course creators, feature them on the homepage, and recommend them to students who have enrolled in similar courses. This helps Udemy deliver more value to the course-seeker as well as to the course-creator.
Seamless aggregates lead information, gives you all their contact information, and then provides the tools you need to engage in a conversation.
Read more on Andrew Chen's advice on marketplaces.
Reddit is a network of communities based on people's interests. Search and join subreddits to post, comment, and get to know others like you.
Indie Hackers is a community of developers who are sharing the strategies and revenue number behind their companies and side projects.
MegaMaker is a private community for developers, designers, and product people to make better stuff on the web and earn a better living from what they make.
9. Democratize
Democratize: Make something that's technically challenging or requires exclusive knowledge more accessible or enjoyable.
It's often a lofty, dreamy goal. But it doesn't make it impossible.
In fact, it can be a defensive moat for companies who can tackle hard problems that aren't accessible to companies just starting out.
Democratization Examples
Zapier allows anyone to connect the tools they use with customizable integrations to send data back and forth without any code. With over 1500+ integrations and an extensive list of rules and automations to choose from, Zapier has democratized software integrations for tens of thousands of users.
LawDistrict helps individuals and businesses to simplify the preparation of legal documents, according to their own specific needs. Its contract maker tool provides a wide library of verified legal templates and helps users via a step-by-step process to create error-free customized legal paperwork that can be edited, downloaded, and printed easily. This helps users save time and money with guidance and expert tips throughout the process of drafting essential legal forms and contracts.
Webflow recently raised a $72M Series A funding round to propel them into the next chapter of the business to empower more people to build for the web — without code. "For far too long, if you wanted to build truly unique and complex solutions for the web, you had to know how to write code, a skill held by less than one half of one percent of the world. As a result, we're left with an internet — a world of apps, websites, and software — that's miles behind its true potential. So, we intend to push the idea of no-code forward as much as humanly possible." — Vlad Magdalin, CEO and co-founder.
MonkeyLearn essentially provides machine learning models and analysis without having to program and implement them yourself. Train custom machine learning models to get topic, sentiment, intent, keywords and more for customer support, product insights, and software development workflows.
Glide turns spreadsheets into beautiful, easy-to-use apps, without code. Pick a spreadsheet or start with a template, customize your app, then share it instantly.
10. Supplement
Supplement: Building on someone else's product or customer base.
When a product becomes a platform and opens up development to outside sources, new products can supplement the platform with additional features and functionality.
Building on top of a platform allows a product to tap into that user base, grow with the platform, and associate themselves with the platform's reputability and brand.
Supplementation Examples
Here are a few places you can find supplemental apps:
Shopify Apps
Chrome Extensions
WordPress Plugins
iOS Apps
Android Apps
Slack Apps
Salesforce Apps
Products can supplement multiple platforms as well:
Products that start as a standalone app and then expand to supplement other platforms
Products that start as a supplemental app and then evolve to be a standalone app as well
Products that start as a supplemental app and then expand to supplement other platforms as well.
These kinds of developments can open up new market opportunities, reduce the work necessary to start using your product, and can even be a marketing channel.
11. Platformize
Platformize: Open up access for others to develop on and augment your product.
There are a lot of "platforms" out there that aren't really platforms. Calling a product a platform hints at some deeper value, but simply calling it a platform doesn't make it a platform.
"A platform is when the economic value of everybody that uses it exceeds the value of the company that creates it." — Bill Gates
A product turns into a platform when it has a combination of product offerings, integrations, and ecosystem of users, builders, and operators to maintain it.
Transforming your product into a platform has a few distinct advantages:
The ecosystem of apps, extensions, and services in your platform becomes a competitive moat
The product roadmap is virtually accelerated with others now filling in many of the gaps you had before
The value of your platform embodies the entire ecosystem, not just the core product
Platformization Examples
Launched in 2009, the first iteration of the Shopify App Store had less than a dozen apps, many of which ended in "-ify" to match Shopify's name. Developers were telling the Shopify team that they were doing many of the same things over and over again, and asked if there was a way to build it once and then sell it to merchants. Since then, over 2000 apps have been built for the Shopify App Store.
In late 2015, Slack announced an app directory alongside an $80 million fund to invest in companies who build Slack apps and other products that rely on integration with the company.
Figma just recently launched plugins and now has over 40 publicly available to use by customers.
The beauty of innovation
The reality is that there's a lot of overlap between the frameworks. No feature or product is supposed to squarely fit in one framework or the other.
These frameworks can be used to mix and match as you please. Think of them as a starting point rather than an end-result.
So what will you innovate?
What will you create?
And maybe most importantly: What will you remix, "steal," and iterate on?