"Web notifications are the new email marketing. My click-through rates are insane…over 20%. I wish someone told me about this earlier." – Neil Patel
Web push notifications are relatively new, and most founders and marketers have yet to use them. Using them as part of your marketing plan could put you a step ahead of your competitors.
A web push notification is a notification sent to a subscriber via their web browser. They typically look like a phone notification – you know, in a little box like when you get a new text, or someone liked your latest IG post.
Like this: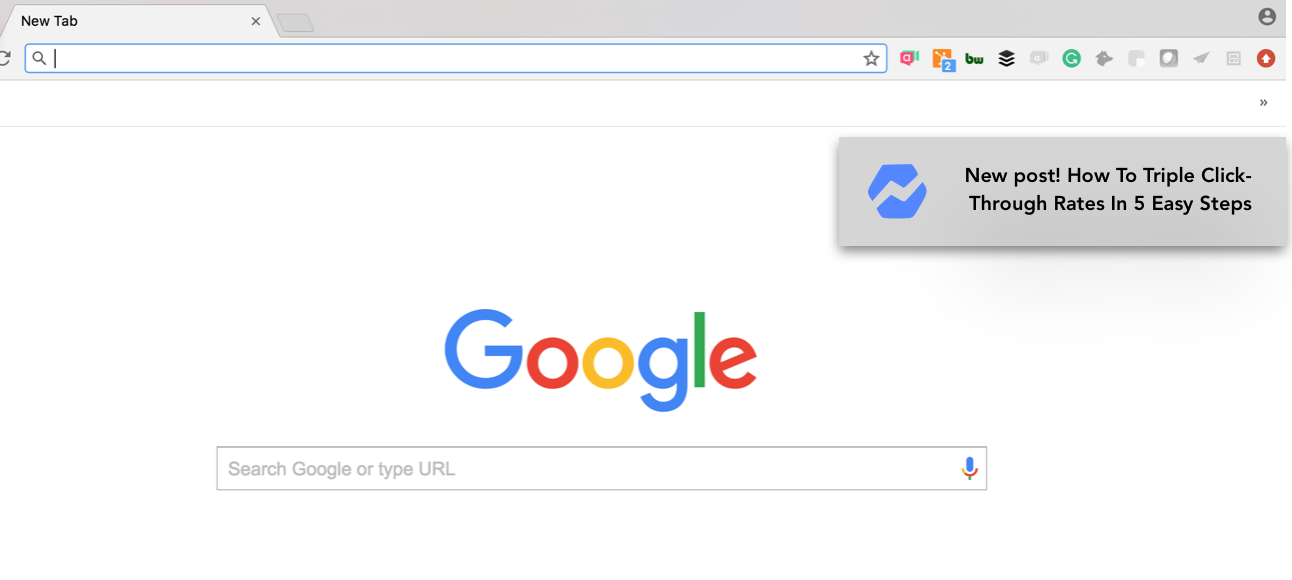 So why are web push notifications the latest craze? How are they helping companies triple click-through rates?
Web push notifications deliver right to your audience no matter where your audience is
Web push notifications are sent out via browser when your prospect is online. So, it doesn't matter if they're not logged into their Gmail account to receive your latest blog post to their inbox. It doesn't matter if they're not on Facebook scrolling past your most recent win in their newsfeed. These notifications are served directly to them, regardless of where they are or what they're looking at.
They're sent in real-time
Imagine your prospect is browsing the net, watching a YouTube video or whatever, and suddenly a tiny box followed by a "ping ping" appears in the top-right corner of their screen. It says something like 4 ways to improve your MRR right now. Amazin'. Your prospect gets excited, because who wouldn't want to improve monthly revenue? And so, they click over to read your post immediately.
They're cost effective
First, web push notification services are usually free up until you hit a specific number of subscribers (much like email marketing tools).
Second, they're cheap to implement when you're deciding whether to build or buy your tech platform – as building out your app is expensive. You embed a snippet of code, and it's done.
They're great for business hours
Mobile makes up majority of web traffic these days, BUT during business hours, a good chunk of users are on desktops as well. Web push notifications hit both mobile and desktop users alike.
Opt-in is easy
There's nothing to fill out, not even a blank requesting an email address. It's a simple "click yes or no" that happens as soon as a visitor lands on your page (see below).
How to use web push notifications
Step 1. Sign up for a platform.
Unless you want to code your web push notifications (which is going to be expensive), you'll need to sign up for a service like Subscribers.
Go to subscribers.com and click Sign Up in the top right corner

Step 2. Install a Google tracking code.
You don't need to be a developer to set this up. It takes five or ten minutes to copy-paste a couple of code snippets into the end of your site.
You can follow this step-by-step guide.
Step 3. Once your account is set up, your site will start to collect "subscribers."
Your site will ask visitors if they'd like to receive notifications from you regarding your blog, product features, etc.
It'll look something like this one on Neil Patel's blog: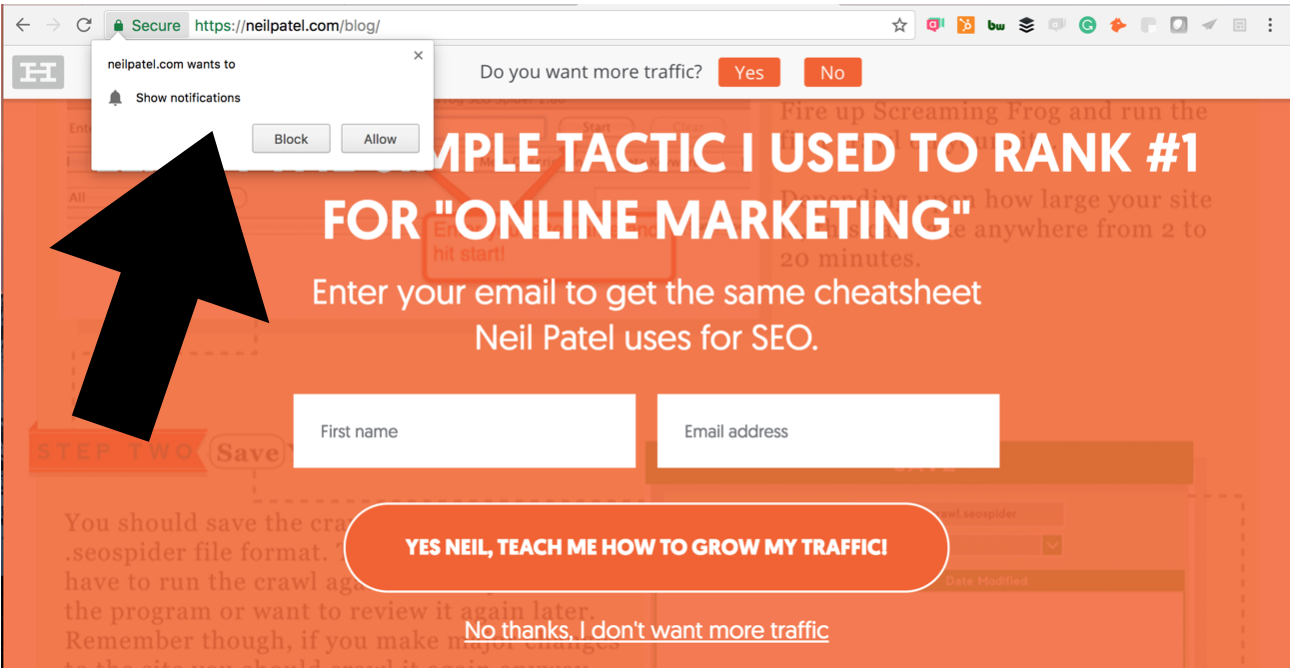 Step 3. As your subscriber list grows, you'll be ready to send out notifications.
Sending a notification is as easy as clicking that little button in the top right that says, "send notification."

Once you click send a notification, you'll enter the text you'd like to send out. You can also add a photo or logo to your web push notification.
The tricky part is optimization
Here are a few tips.
1. Keep your copy focused on how it benefits your prospects
For example, don't say: Our new blog post is out!
Instead, explain the benefit to your audience, like this: This simple hack will improve your retention rates by 10%.
2. Less is more
George Orwell said it best – don't use a big word when a small one will do. Keep your notifications short, sweet, and to the point.
3. As your list grows – divvy it up
List segmentation is useful for all businesses, but especially for eCommerce ones. Don't throw all of your audience members into the same bucket. You might want to segment by age, interest, which page folks subscribed from, etc.
To quote the Kissmetrics blog: "If I've been checking out books in the spy thriller genre lately, the store should mark me as someone who's interested in the genre and send me a notification whenever something new is published in that category."
We hope that web push notifications can help you garner more engagement from your audience in real-time.