The monthly recurring revenue (MRR) of my MarTech startup Friendly recently has exceeded $1,000 – just 94 days after its launch.
But it took me more than 20 years to get there.
Running a product company was a dream of mine since my teenage years. There was always something holding me back though.
In my teenage years it was missing role models.
In my twenties, the advice of parents and friends to "get a good education".
And in my thirties, when I finally would have had the courage, I lacked the ideas.
I only knew the example of founders who worked practically around the clock. How could I reconcile this with the newfound family with little kids?
That finally changed when I got to know the concept of "indie hackers" and "bootstrappers" through people like Pieter Levels and Arvid Kahl. It seemed to be finally possible to build a start-up without investors and unhealthy working hours.
The problem of the missing idea still remained. I read a brilliant tip from Arvid Kahl to start with the audience instead of the idea: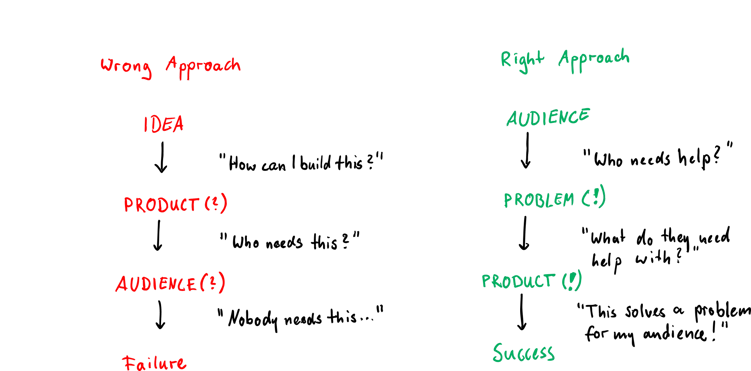 As a result of the establishment of my agency Wortspiel and my previous career, it was clear that my audience should be in the marketing sector. I also knew that my target group would be companies:
"B2C is the most demanding customers for the least money. B2B is the least demanding customers for the most money."
– Pieter Levels –
And by talking to people from this audience and researching their biggest problems, I noticed two major trends in marketing:
Companies want more data sovereignty. This trend is being accelerated in regions like the EU and California by new legislation such as GDPR and PECR.
Due to instances like the Cambridge Analytica scandal, there has been a growing unease about the dominance of large tech companies and the possible misuse of data. At the same time, there is a growing desire to get in touch with interested parties and customers independently of these gatekeepers. This can be seen in the growing popularity email (newsletters are hot in 2020).
I then came up with two concrete product ideas: Friendly Analytics, a privacy friendly web analytics solution, and Friendly Automate, an SME friendly email marketing tool.
So at age 38 I finally started my own start-up—in the midst of the Corona crisis.
How I made it to $1,000 MRR
Here are the tactics I used to grow Friendly from a brand new startup to a company that makes over $1,000 in MRR.
1. Launched Friendly Analytics on Product Hunt
On March 18, 2020 Friendly Analytics launched on ProductHunt – only 26 days after registering the domain Friendly.is.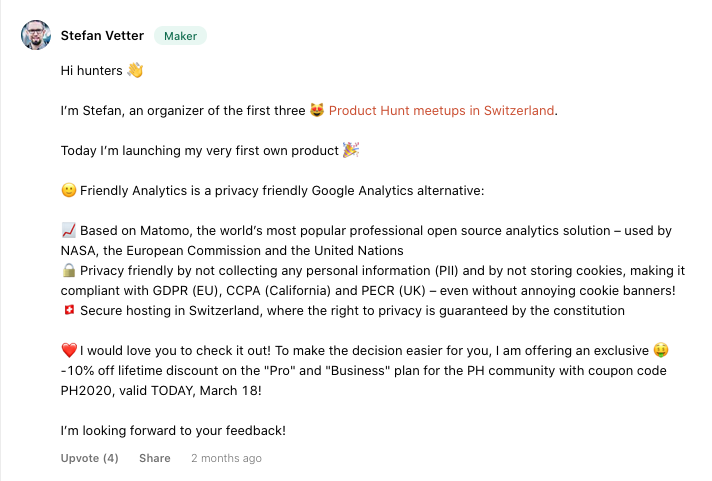 It made it to the homepage after just a few minutes and was able to stay there all day.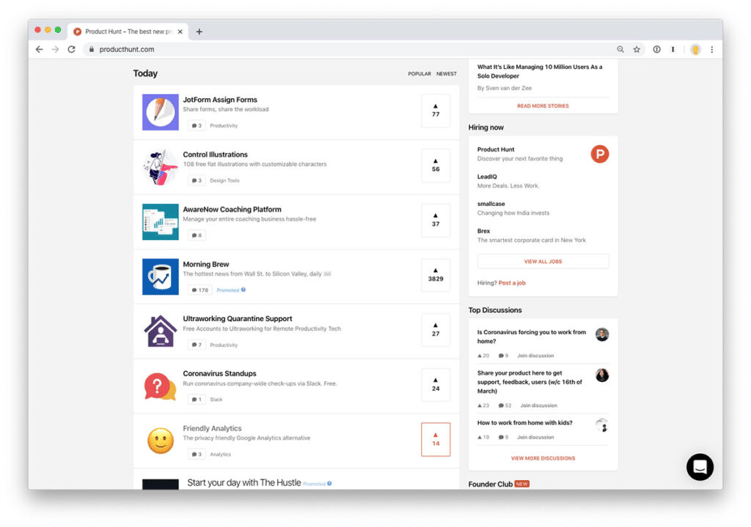 I supported the launch with my agency's newsletter (which went to 3,252 people, got an open rate of 37.5% and generated 130 clicks to the landing page) and on LinkedIn.
Friendly Analytics ended the day on Product Hunt on a good 12th position on with 120 votes and a rating of 5/5.
The results were 593 visitors to the landing page – and 0 sales.
I see two reasons for this:
I hadn't tested the pricing before. The cheapest subscription was $29 a month – obviously too high. (Tip: before launching, ask some contacts what your offer would be worth to them.)
I had almost no feedback on the landing page, and the landing page had a lot of upside potential. In this blog post on Indie Hackers, Danny Postma describes how to do it better.
It took me 21 more days to get the first paying customer for Friendly Analytics on April 8, which still felt like a great success.
2. Soft launched Friendly Automate using my agency's newsletter
One day before I got the first paying customer, I published my second product, Friendly Automate.
This time I wanted to do it better, so I decided to do a "soft launch".
In order not to "waste" the valuable momentum on Product Hunt again, I first promoted Friendly Automate to some friends on the beginning of April. I then shared it through my agency newsletter and on LinkedIn on April 7.
This gave me the chance to respond to feedback and improve the offer and landing page before the big launch.
This soft launch already showed me that the demand for this second product was much stronger than the first one: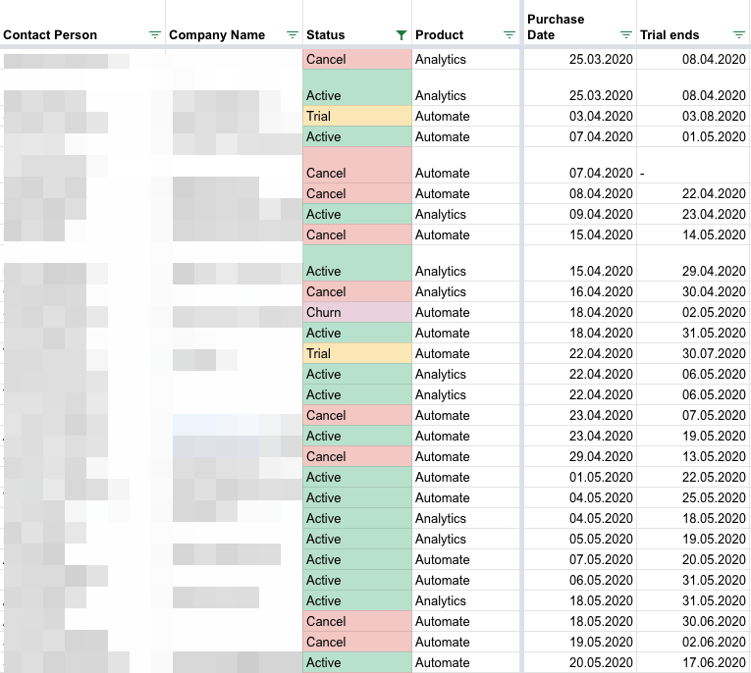 This table shows our customer development until reaching $1,000 MRR. It took us 23 customers to get there. More than half of them decided to switch to a paid subscription after the free trial. "Cancel" means that customers have canceled their subscription during the trial period, "Churn" means that they canceled an active subscription. The two customers still on trial had to postpone the test for internal reasons.
You can see that on the day after the soft launch we already acquired four trials for Friendly Automate while a week after the launch of Friendly Analytics on ProductHunt we have not had a single customer.
3. Launched Friendly Automate on Product Hunt
This gave me the confidence to introduce Friendly Automate to a larger audience. So I launched it on Product Hunt on April 21: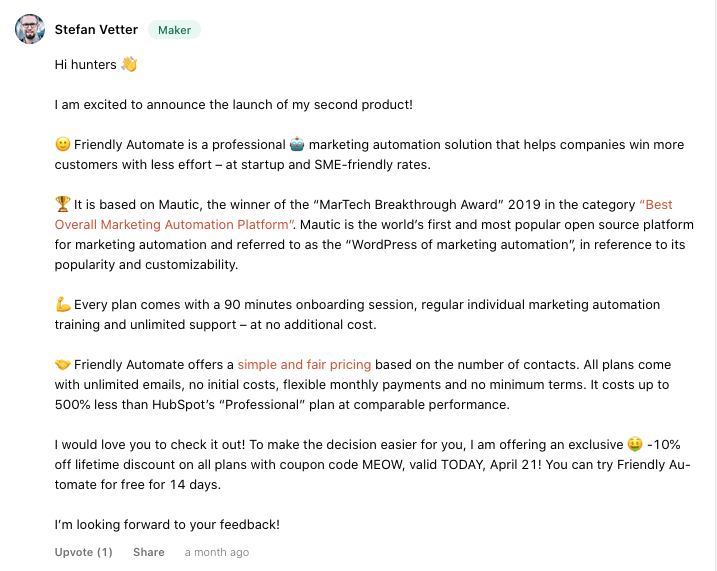 Like Friendly Analytics, the product made it to the homepage after only a short time, but did not rank as highly. It ended the day in 31st place with 50 votes.
But the launch generated at least one new test customer, with more to come in the next few days. From a business perspective, the launch was therefore more successful than the first one.
4. Became an Open Startup
One of my entrepreneurial role models is Buffer. They are a pioneer in corporate transparency. According to Buffer, transparency in business has four key benefits:
It creates trust in your team and with customers
It fosters innovation, because your own team has more information at their disposal to make better decisions
It promotes fairness, for example when it comes to salaries.
You will receive more helpful feedback
I would add a fifth aspect: it definitely helps in marketing.
Instead of having to create new and original content all the time, you can simply document what happens anyway.
"Document, don't create."
– Gary Vaynerchuk –
It is no coincidence that I first learned about Baremetrics because Buffer used them to make their revenue public in 2014. I thought it was the coolest thing ever.
Six years later, I am thrilled and honored that Baremetrics CEO Josh Pigford has created a public revenue dashboard for Friendly as well: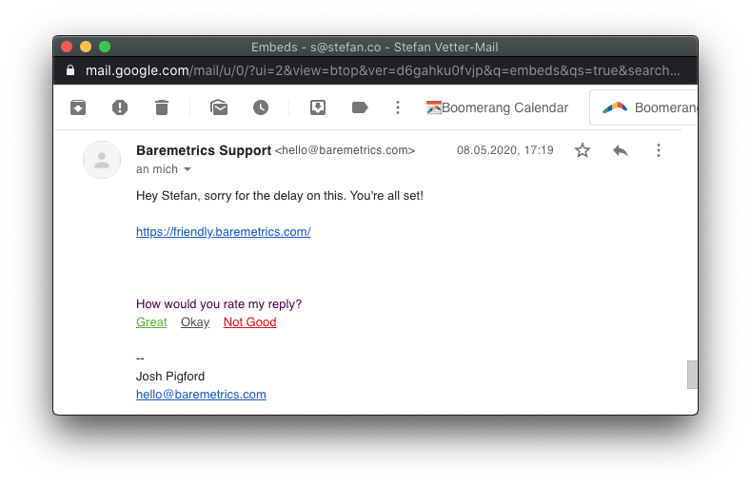 This dashboard is now the heart of our Open Startup page, where we also share our web analytics and product backlog.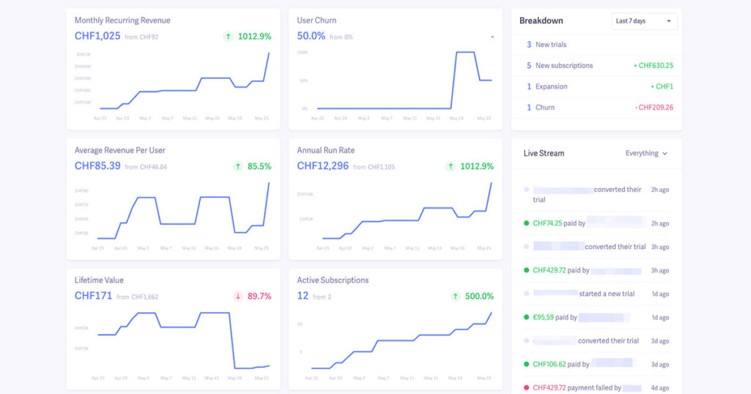 Our public revenue dashboard from Baremetrics at the time we reached the $1000 MRR.
Being an Open Startup has helped us to stay in the conversation, attract attention and ultimately win more customers.
You can see other Open Startups and even join in here.
5. Launched an affiliates and partner program
The last major building block of our traction are partners – affiliates and agencies. Three out of 14 customers active at that time came through partners – including our largest customer.
The share has continued to grow to this day. Therefore, I cannot recommend enough to think about an affiliate program early on.
Compared to paid advertising on Google or Facebook, there is no risk in an affiliate program – we pay our affiliates 25% lifetime commission.
That means we only pay if we earn money. And our affiliates have the chance of an attractive revenue share.
And I'd give the money 1000 times better to our partners than Google and Facebook.
Save $50 on your next Baremetrics subscription by referring a friend! Click here for more details.
What's next?
I am super grateful for what I have been able to achieve so far. And at the same time I am still at the very beginning.
Last month I was able to bring Jozsef Keller, my first full-time employee, on board as CTO. I have been working with Joey since March, initially on a freelance basis. During this time he has brought Friendly a long way, and we have developed into a good team.
"Marketing and Innovation produce results, all the rest are costs."
– Peter Drucker –
I have strengths as an entrepreneur and marketer, but my weaknesses have become apparent in engineering (which for us as a tech startup creates innovation). Therefore the role of CTO was the most important addition for our team.
My goal for Friendly is not a quick exit, but rather a company that is profitable and in which our team and I still enjoy working even decades from now.
You can follow me on this journey on Twitter (@stefanvetter) and LinkedIn or by subscribing to my newsletter.