How good are you at converting free trials into paid users?
If you're like most companies, probably not as good as you'd like.
According to a study including data from 2006-2016, companies end up converting between 1–10% and 40–50% of their free users. Even when you knock it out of the park, you're leaving a lot of potential revenue on the table.
To illustrate: Let's say you crush it and achieve a 50% conversion rate out of 5,000 free trials this month. Your average sale is $40, which means that even in the most favorable scenario, you're leaving $100,000 on the table.
Few companies, and fewer startups in particular, can afford to forego on that kind of cash.
Beating the average
At Dollar Flight Club, we help travelers explore the world's most alluring destinations on a budget.
Over the last two years, we've tested and tinkered with countless pricing structures. In late 2017, we dialed into the free trial model. Just six months later, we've optimized and experimented our way to a 76.5% trial-to-paid-user conversion rate.
Maybe we got a bit lucky. We know it's not feasible for every company to convert that many trials. But, to continue our example above, even a 10% increase in conversions can increase revenue by $20,000.
Who couldn't use that kind of cash?
So how exactly were we able to convert more than three out of every four free users into paid subscribers? We used nine different tactics that were implemented quickly and had a compounding effect week over week.
If you're looking to increase your conversions, you can do the same.
1. Build a product with high value and low cost
First things first: Your product needs to add value to your users' lives. Otherwise, what's the point?
We priced our service at $40/year, and the average user saves more than $500/flight. Book a single flight and save more than 10x. Value delivered.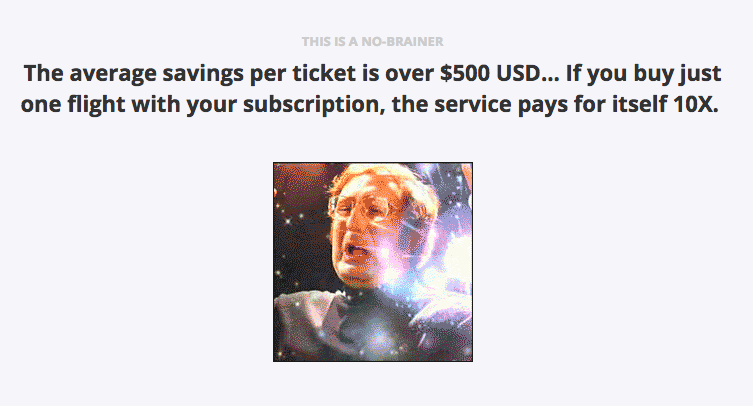 The key is creating an extremely compelling offer. Make the potential customer feel "stupid" for not trying your service.
2. Use A/B testing to get more people into trials
You need volume if you want an increased conversion rate to translate into real money.
To increase trial signups, we used Instapage to A/B test landing pages (it's cheap and easy to set up). We also hired a part-time designer to make things look more professional. If you're looking for a very cheap option, check out Fiverr or Upwork.
Ultimately, we decided to show people the difference between Free and Premium memberships. They could easily see what value they were getting by upgrading. This was one of the most influential decisions we made. People won't understand the value unless they see it in right in front of them.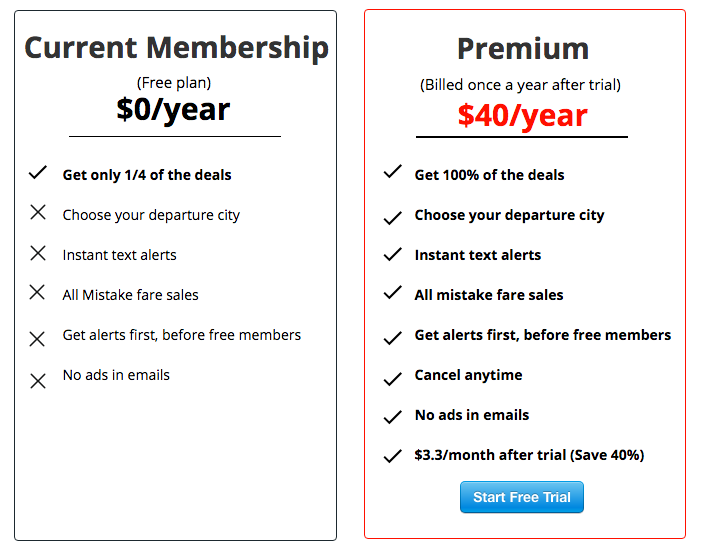 3. Simplify pricing structures
Initially, our pricing page was a bit overwhelming. We offered monthly, quarterly and yearly pricing options which cluttered our page.
Ultimately, we dialed it down to two simple options: a seven-day free trial that moves into a $40/year subscription and a $9/month option to start today.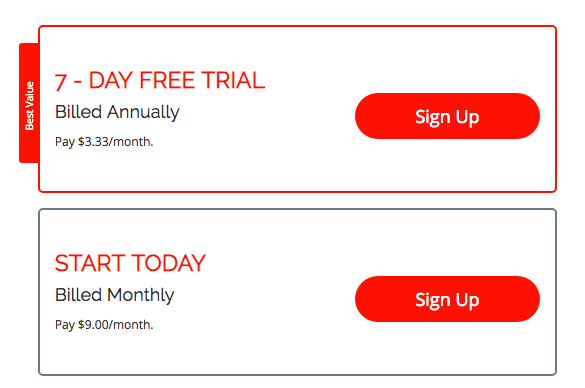 The goal was to make it super obvious that signing up for the seven-day free trial was the best option. And it worked.
4. Include more hooks for paid signups within your app
Our main value prop for going Premium is that you get every deal we offer and you get to choose your specific departure airport (free members get some deals but they can't always choose airports).
We reminded free members what they were missing as often as we could by adding a bunch of hooks throughout our site.
Hook 1: Right up front, we told them a deal they missed out on recently: a $296 roundtrip flight to Barcelona.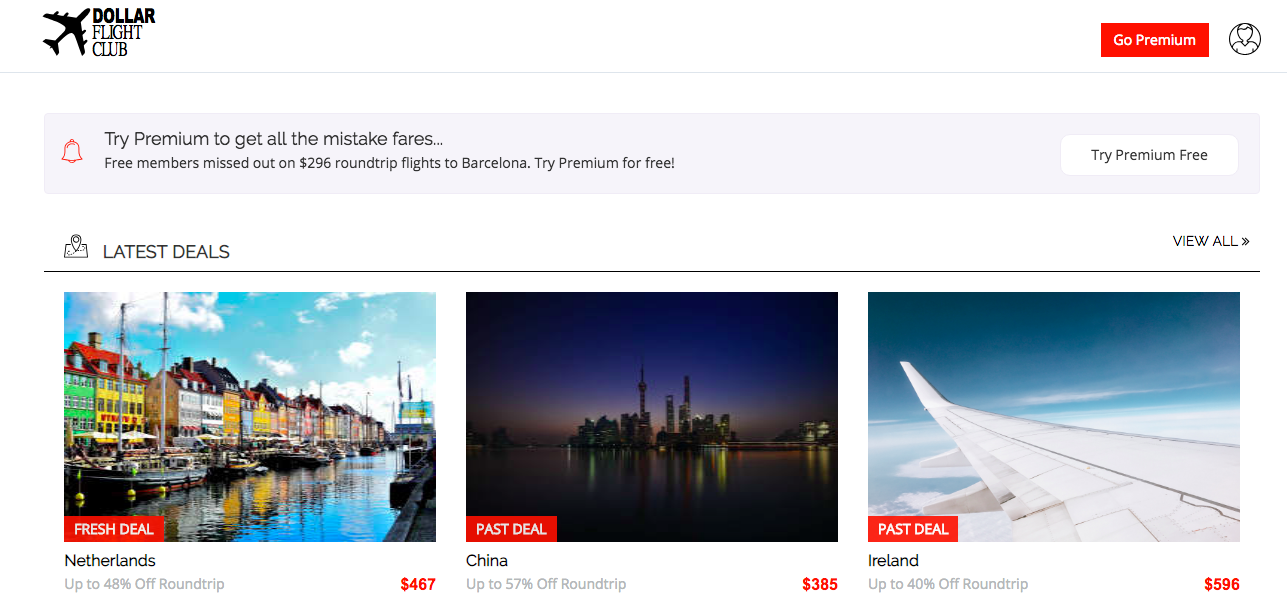 Hook 2: When a free member views a deal within the app, they see messaging that indicates they need to try premium to get deals from a specific airport rather than a region.
5. Leverage a proper analytics platform
It's time to ditch that Excel spreadsheet you've been using to track customer metrics manually.
We started using Baremetrics Trial Insights for analytics. It provides a wealth of vital data about what customers in your trials are doing, how they're converting and which trials are almost over so you know who to target.
Having this information at your disposal is critical to increasing your conversion rate.
6. Communicate with your users
One of the most valuable things you can do is learn about your audience.
It doesn't have to take a ton of effort, either. Simply create a Google Form or Typeform for free, spend 20 minutes populating a survey and send it off to your users. To get people to fill it out, consider incentivizing your audience with a gift card (e.g., $100 to Amazon) or something similar.
We surveyed our customers and uncovered a lot of awesome insights. Here are some of the kinds of questions we asked:
How long have you been part of the Dollar Flight Club community?
Have you heard about our Premium membership?
Why have you not given Premium a try?
How likely are you to try Premium in the near future?
Would you pay more or less for Premium?
What feature do you think would be most useful to you?
What can we do to convince you to try Premium?
We found out a lot about who our customers were, what they want and what they thought about Dollar Flight Club. Some key takeaways from our survey are as follows:
Many of our users didn't know our Premium offering existed. We simply made that messaging more prominent and trial signups increased.
Most users didn't want to start a free trial because they weren't planning to travel in the near term. Our flight deals, however, can work for anyone looking to travel over the next 12 months. We put that messaging up front and signups increased.
Our users were cool with paying $40/year for our service. We knew with certainty that our pricing wasn't scaring anyone away and we didn't have to adjust it.
7. Focus on the customer journey
If you want to increase your conversion rate, you need to take the time to nurture your users. You need to keep them engaged during the trial period, learn more about them as they move across each step of the customer journey and get them to see the value in what you're providing.
At Dollar Flight Club, we send each of our trial users a welcome email series designed to keep them engaged so they convert and see value in what we're offering. Here's what the series looks like:
Welcome emails. When someone signs up, we thank them and tell them to log in to their accounts and update their departure cities. We want them to take action right off the bat.
Successful customer stories. Next, we send them stories that demonstrate real value. We show trial users exactly how we've helped real people while encouraging them to contact our support team if they need any help.
Premium explainer. We tell our new users how Premium subscriptions work and ask them about their dream destinations. The goal, here, is to get them to log back into their account and browse the site.
Cheap flight inspiration. To keep new users engaged, we then send valuable and helpful content to get them thinking about traveling on a budget.
Social media invitation. Finally, we invite our users to follow us on social media and join our "private" Facebook group.
We made a push to create great content for our trial users to help them along their customer journey and learn how to use our service like a pro:
8. Optimize the onboarding experience
To make sure our trial users knew how to interact with our platform and understood how things worked, we installed Intercom and utilized their in-app messaging capabilities.
New trial users were met with the following message when they first signed in:
"Hey there friend, so glad that you've joined the Club! This is your home dashboard where you can see all your deals. We've already populated it with past deals so you have an idea of what type of cheap flights are coming your way. Now that you've joined, we'll start searching the web far and wide for the cheapest international flight deals just for you. Keep an eye on your email for alerts! To make sure you get the right deals in your inbox, double check that your Departure Regions (or Departure Airports if you're a Premium Member) are updated.​ If you have any questions about how things work check out our support articles or contact us at support@dollarflightclub.com. – Happy Travels, Jesse"
We found that people had been canceling their trials because they didn't set up their accounts properly. Simply adding this message had a huge impact on our conversion rate.
We also used a free service call Hotjar to see where people were getting confused within the app and made appropriate adjustments.
9. Assemble a strong team
You can't do everything on your own.
We made some critical hiring decisions early on, building a strong team that could deliver more value to our users. As a result, we were able to find even better flight deals—and a lot more of them.
Increasing your conversion rate may sound like a daunting task, but it doesn't need to be. Follow these tactics and watch your subscriber base grow. Good luck and happy travels!