You may have already heard about the marketing funnel and are pushing your prospects from awareness to the sale. The Baremetrics New Customer dashboard is looking great, but your monthly recurring revenue rates aren't climbing as you thought they would. Customers are unhappy and downgrading or churning.
Maybe you are wondering: What single thing should I be doing differently? Well, you need to adapt your funnel, which starts with reimagining the structure as a flywheel. The concept of flywheel marketing says that transformations never happen in one fell swoop. According to this concept, your sales and marketing process resembles a giant, heavy wheel that builds momentum until a breakthrough is achieved or slows down due to customer friction.
Unlike the funnel approach, the flywheel approach suggests that the sales process is never truly complete. If, at any point, there is a lack of alignment between your sales and customer success, your wheel slows down. Improving your customer experience, user-friendliness, and conversion rates speed the wheel up.
When your flywheel is in motion, clients are retained and upsold, and they will eventually become the source of new business by recommending your company to others. Because it focuses on retention, this model is uniquely suited to SaaS companies that rely on repeat subscriptions.
Baremetrics monitors subscription revenue for businesses that bring in revenue through subscription-based services. Baremetrics can integrate directly with your payment gateway, such as Stripe, and pull information about your customers and their behavior into a crystal-clear dashboard.
Baremetrics brings you metrics, dunning, engagement tools, and customer insights. Some of the things Baremetrics monitors are MRR, ARR, LTV, the total number of customers, total expenses, quick ratio, and more.
Sign up for the Baremetrics free trial and start managing your subscription business right.
All the data your startup needs
Get deep insights into your company's MRR, churn and other vital metrics for your SaaS business.
How flywheel marketing works
Metaphors aside, we could say that a marketing funnel focuses on attracting one-time buyers and looking for new business instead of repeat customers. Conversely, the flywheel approach looks at customer delight and retention, as well as new business. Because SaaS businesses depend on repeat business, the flywheel approach is an excellent tactic to adopt.
Like the funnel, there are several stages to flywheel marketing:
1. Activation
In the first stage of flywheel marketing, you want your non-users or evaluators to become new users of your service. You can do this in several ways, including creating a high-converting website that showcases your expertise, provides exciting case studies, and/or offers free trials and coupons.
Make sure that you track your trial customers, new customers, and coupon usage in Baremetrics' Control Center to determine how effective your campaigns are.
The Baremetrics Control Center gives you a full view of all your metrics.
2. Adoption
Now that you've got a few new customers, you want to keep them coming back for more. This could include renewing their subscription every month, moving to a premium tier after a free trial, or upgrading their existing plan.
You want your beginners to become regular, habitual users of your product and its complete application. One way of doing this is to include product tutorials, host seminars, or highlight new or overlooked features in your product suite.
3. Adoration
It's great that customers have signed on to your products or services and that they have started using them, but that's not the end goal. Customers should love your products and look forward to using them regularly. The best possible outcome of a sales journey is to have a group of customers that act as brand ambassadors and recommend your product to others. This step sets the stage for customer advocacy.
You can help your customers fall in love with your products or services by:
Sharing resources via social media or newsletter, like free webinars or whitepapers
Using surveys and feedback forms to ask customers which features they would like to see next
Conducting regular courtesy calls urging customers to upgrade to premium tiers or purchase additional features to solve their problems or meet new needs
4. Advocacy
Now that your customers are on board, using the service, and loving every minute of it, you can keep the flywheel turning by using your happy customers as your marketers. User testimonials, reviews, referrals, and user-generated content can be potent conversion tools.
Try setting up affiliate programs or incentivizing customers to review your site in exchange for discounts or promotional gifts.
The benefits of flywheel marketing
The flywheel model takes some time and a few shifts to get going, but it's well worth it in the long run because it puts customers at the center of your business operation and sets the company up for consistent, long-term growth.
Here are a few of the benefits of flywheel marketing adoption:
The flywheel approach is developed with modern customers in mind
Modern customers are self-informed and want to make their own purchasing decisions. The flywheel ensures that your customers' ongoing need for support and knowledge is met by delivering new information to them at every stage of the journey, even after they've converted to your service.
Flywheel marketing lowers lead abandonment
In a traditional sales model, sales and marketing development teams will occasionally ditch their leads if they aren't ready to close when quarterly sales numbers are due. They will also spend excessive time trying to complete deals instead of nurturing cold leads or existing customers. Leads are closed and abandoned at a much higher rate if you don't adopt a flywheel approach.
Flywheel marketing improves customer service
Let's face it: Modern customers expect frictionless, high-quality service every step of the way. Their relationship continues with you long after they've signed up, which is why neglecting a customer after they've closed the deal isn't going to work.
Your flywheel maintains the focus on retention and keeping customers engaged after they've converted, which holds your monthly recurring revenue rates stable while also increasing your opportunities for upselling.
Flywheel marketing fosters innovation
All companies have to continue innovating to keep their doors open and avoid losing customers to the competition. By focusing on the customer (new and existing), you'll continually gain fresh insights into what customers are looking for from companies like yours. That way, you can develop new features and products based on the market needs as they crop up and become a truly agile organization.
Customers become part of the marketing team
Your sales team can spend months fostering new leads, and all that effort and benefit is lost when a customer cancels. The flywheel approach focuses on the customer and uses them to drive growth by deploying them as ambassadors.
Instead of viewing each customer as having a definitive start and end point, you start viewing your customers as long-term opportunities that can support your brand over time.
How to turn your sales funnel into a flywheel
Moving from a sales funnel to a flywheel doesn't have to be complicated. Here's how to move to the new framework in three easy steps.
1. Define your flywheel
You don't have to start from scratch. Go through your existing funnel processes and programs and decide which steps you'd like to keep. Determine which core KPIs you are already tracking and whether you can apply them to the flywheel stages. Then map the strategies, platforms, and content types you already have at your disposal or could start utilizing to attract, engage and delight your prospects and customers.
You should also relook at your metrics and current stats to identify the points of friction. Your Baremetrics Control Center should give you insight into churn rates, new customers, and other key metrics you will need to create your flywheel.
2. Find and create touchpoints that generate delight
Keep your flywheel spinning by creating customer experiences that spark joy with your customers. Add chat support, surprise them with discount vouchers or swag, and send regular shout-outs on social media.
There are endless possibilities for creating next-level customer experiences.
3. Determine the friction points
What are the bugbears that prevent your customers from upgrading or that cause them to leave? Scrutinize your inbound marketing strategy and evaluate whether you are missing content that could be used to keep your customers coming back for more.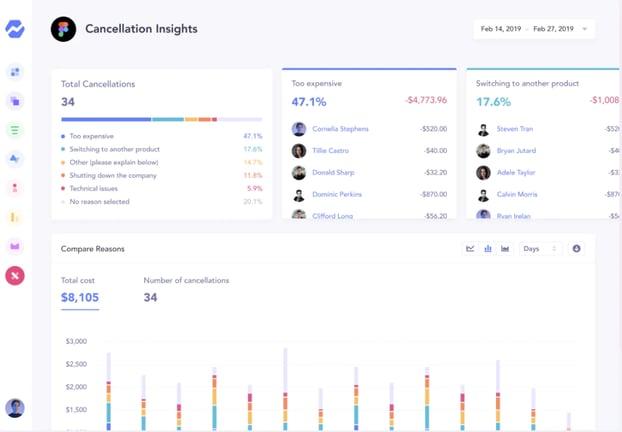 Cancellation Insights can help you make the necessary improvements to keep your flywheel spinning.
If possible, create a customer success and onboarding team that can help customers transition to long-term retention at the point of sale. Use Baremetrics' Cancellation Insights Tool to determine why customers might leave your company and work on making improvements according to those insights.
The less friction, the faster your wheel will spin.
Conclusion
Flywheel marketing is about delivering an excellent customer experience that will retain and upsell customers across their entire lifetime. It's a sustainable, focused approach to sales and marketing that any SaaS company can adopt.
Before you can implement your flywheel, you need to understand which areas of your customer journey can be approved. Using Baremetrics will give you in-depth insight that can help you build your marketing flywheel.
Marketing channels are only as good as their results. Have a look at the demo to see which marketing and business insights Baremetrics can unlock for you.
Sign up for a free trial and set your new flywheel marketing strategy in motion.
Want to Reduce Your Churn?
Baremetrics measures churn, LTV and other critical business metrics that help them retain more customers. Want to try it for yourself?