Anyone in tech can tell you, the SaaS industry is growing at an insane rate.
With over 21,000 SaaS companies in the market, the growth is projected to continue by the end of 2021, reaching $157 billion. With the number of SaaS companies increasing, it is crucial for you to follow certain growth strategies to outdo your competitors.
If there's one brand you and I can learn from to become better SaaS marketers, it's HubSpot. From ranking for over 34,000 keywords to running its own knowledge base (i.e., HubSpot Academy), HubSpot has aced the SaaS marketing game in more ways than one.
Following HubSpot's lead is a good way to prepare your SaaS product marketing plan, but to do so effectively you'll need a step-by-step process to get started.
In this article, we will walk through 7 steps for creating a solid marketing strategy for your SaaS product. By following this process and using a tool like Baremetrics, you'll generate more revenue and outdo your competitors in the process.
1. Define your ideal buyer persona
There is no one-size-fits-all customer for a SaaS product. There will always exist a pool of customers you can target when marketing your product.
Let's understand this with an example.
When Spotify arrived on the scene, their first instinct was to market to everyone since music holds a universal appeal. However, they came up with a more nuanced strategy to identify their buyer personas—a semi-fictional representation of their ideal customer.
Spotify's long-drawn process of crafting buyer personas looked into:
People's needs to listen to music
People's attitudes towards music consumption
The context of listening to music
The brand used these factors to draw out its ideal customers.
Spotify's example shows the most important factor in creating your buyer personas is mapping out their characteristics. To do the same for your company, write down how your buyers would behave and create different profiles based on these points.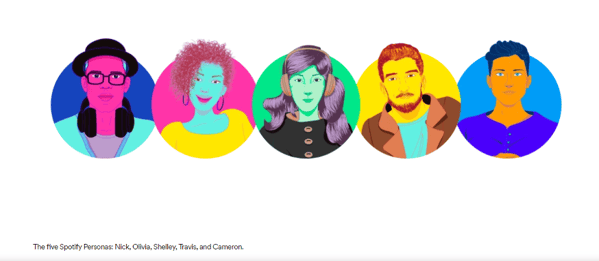 2. Identify your marketing goals and KPIs
To build a solid marketing that convinces prospects to sign up for a free trial, demo, or a paid version of your product, you need a set of measurable marketing goals. Together with realistic and defined goals, you should have some clear metrics to track your progress as well.
Some of the most common SaaS marketing metrics are:
Customer retention
Upgrading services offered to the customers
Lead generation
Conversion rates
Google Search ranking
The first step is outlining the goals specific to your product. Then proceed with defining your key performance indicators (KPIs) to track metrics for success.
Here at Baremetrics, we suggest using the SMART goals framework (Specific, Measurable, Achievable, Realistic, and Time-Bound) to focus on what activities are critical to getting results. An example of a SMART goal would be something like, "Acquire 1,000 new users over the next 3 months in the US Market".
Once it's time to execute against your goals, breaking down each goal into time frames that are easier to digest is great to get momentum. Doing so will ensure you identify key daily and weekly tasks/processes.
Let's look do this for the SMART goal we set above:
If you want to acquire 1,000 new users this quarter in the US alone, you'll need to acquire X number of new users per month. Your monthly target would be 333 new users within the US market. From there you can break it down even further to weekly or daily targets.
It can be difficult to know what KPI's you should track for SaaS growth. These are commonly used SaaS marketing KPIs:
Registrations for free trials
Revenue and leads
Requests for a demo
Customer acquisition costs
Lead conversion rate
3. Study your competition
At this stage, you know the who, what, and why of your marketing plan—let's talk about the how.
Building a marketing plan starts with learning from your competition. If you are new to the market, there is no better way to grow than to see what your competition is doing and how your ideal customers are responding to it.
Multiple factors come into play when creating a competitor analysis report. Some key indicators to consider are:
Organic rankings
Social media activity
Ad campaigns
Number of backlinks
This study will give you a fair idea about what your competition is doing right. Use the below template to prepare your analysis report, and notice gaps to address in your SaaS product marketing plan.
4. Build an SEO strategy
Most SaaS marketing funnels primarily aim to create different levels of awareness. Building awareness and generating interest for a SaaS product caters to a more knowledgeable audience of business owners.
While content like whitepapers is an option to achieve this objective, SEO offers a definite solution for organic growth.
Making an SEO plan of action for your SaaS product will involve:
Defining keywords: Target the right keywords to reach your audience.
Creating content: Long-form, engaging content that hooks readers, and caters to the search intent is important for SEO success.
Making landing pages: Bring traffic to optimized landing pages and gather leads for your product.
Building backlinks: A higher search engine rank is closely related to the number of backlinks you earn through value-packed content.
Optimizing website: Audit your website for technical SEO scores and enhance the factors scoring low.
Creating SEO content is essential before you transition into the distribution phase. Unless you create evergreen content optimized for the search engine, it's going to be difficult for your distribution plan to reach the desired results.
Identify your marketing goals and KPIs with Baremetrics
Get deep insights into MRR, churn, LTV and more to grow your business
5. Create and distribute content effectively
With the desired set of keywords and a detailed SEO action plan in hand, you can start planning your content creation and distribution strategy.
Here's what it can include:
Owned media channels: blog, newsletters, downloadable assets like eBooks, and social media channels
Paid channels: pay-per-click ads and sponsored content
Earned channels: guest blogging, QA forums, press releases, and podcasts
Content marketing is a core element of SaaS marketing. Meaningful content will not only create credibility for and generate interest in your product, but it will also boost sales. Similarly, you can use social media to build your brand.
In order to market to your individual buyer personas, you have to create content for the multiple stages of the conversion funnel:
First stage: When a user visits your website and browses through some pages, they are at the entry point of your funnel.
Top of the Funnel (TOFU): When the visitors start reading your blog posts or watching videos, they start engaging with your content.
Middle of the Funnel (MOFU): When the leads want to know more about your brand, they spend more time reading long-form content and downloading resources, if any.
Bottom of the funnel: At the very bottom, the lead has reached close to conversion, and they request a demo or want to communicate with the team to take things further.
Once you've created content for each step of the funnel, organize it in a way your ideal customers can find it on your website. The project management tool, Asana does this perfectly:
Their extensive homepage provides detailed insight into the software and how it can help users.
The "Why Asana" section combined with the "Solutions" section offers more information for visitors looking to dive deeper.
The Asana Guide is a great resource for those in the middle of the funnel.
A built-in demo video works well for the final stage of the funnel, providing a nudge towards conversion.
6. Strategize email marketing campaigns
One of the best channels to maximize the results for your SaaS product marketing is through email.
From announcing new updates and sending discount offers, to segmenting your audiences, and onboarding new clients, email is the best way to communicate with your users—potential and existing.
Use email campaigns for knowledge sharing and customer engagement to enhance your brand image, and nurture leads.
Canva presents a perfect example of using emails to encourage brand interaction.
Use some of these metrics to measure the success of your email marketing campaigns:
Delivery and open rates: to check if you're reaching your audience's inbox without fail, and they're opening your emails.
Click through rates: to see whether your subscribers are acting upon the CTA.
Signup rates: to assess whether your emails and landing pages are working well.
Subscriber retention rate: to measure the customer response to your campaigns.
7. Monitor performance to make improvements
The last yet equally important step of creating a SaaS product marketing plan is monitoring performance.
To implement this essential step, you can create a reporting system to keep track of all your KPIs. An analytics software like Baremetrics comes in handy in the process.
Baremetrics is a business analytics monitoring tool that helps teams better understand and act on their financial data.
By integrating Baremetrics with payment processors like Stripe and Shopify, you can see 26+ key metrics including MRR, ARR, and LTV in real-time via smart dashboards. Check out a live demo of actual Baremetrics data here.
Keeping a pulse on your financial metrics will help you see how customers brought in through marketing efforts contribute to your revenue and inform how you can iterate and improve your marketing strategy.
Conclusion
Marketing a SaaS product differs greatly from traditional marketing campaigns. The actual difference lies in the target audience, content creation, and marketing channels.
With the right knowledge of SaaS product marketing strategy and the right analytics tools, you can build your own plan of action with ease. Start with defining everything about your product—buyer personas, their pain points, and your marketing goals. Then dig deep into the market and learn from what your competition is doing.
Use this knowledge to ideate your strategy and focus on reaching the audience organically through content. Level up your SEO game and leverage the power of email to enhance your brand recognition.
Don't forget to track your progress and keep iterating to get the optimum results.
Monitor performance for improvements!
Get deep insights into your company's MRR, churn and other vital metrics for your SaaS business.