Shopify Checkout is Shopify's native payment gateway. It's both highly secure and easy to use, which makes it one of Shopify's most valuable selling points.
Shopify Checkout supports both sides of a transaction: customers submit an order request, input payment details and select a shipping option, and merchants choose to accept or query the order through a centralized system.
Shopify Checkout also provides its Partners a lucrative development opportunity. The payment gateway is fully functional as a stand-alone, however, Shopify strongly encourages third-party developers to build and market their own Shopify apps to improve and diversify the checkout process.
Read on to find out why Shopify Checkout is such a great product, and which additional third-party apps we recommend.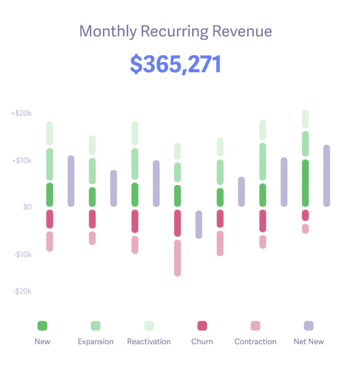 All the data your Shopify Partners app needs
Know instantly how your Shopify app is performing, what's working, what needs improving, and where to focus next.
Benefits of using Shopify Checkout
Shopify Checkout is the best payment gateway found in ecommerce today.
Here are some of the many features and functions of Shopify Checkout that position them as market leaders.
1. Flexibility
As the world of ecommerce evolves, Shopify releases annual upgrades and new features in order to meet the changing needs of global users.
While Shopify's native product is a powerful system in and of itself, Checkout owes much of its flexibility and versatility to third-party app developers, who are free to build any additional features as they see fit. Not only is this a great advantage to their user base, but also to the developer community: once vetted, Shopify supports the sale of these third-party apps through their own app store.
2. Speed
To this day, Shopify Checkout has processed over 2.5 billion orders. This system is top of the line in terms of speed, which not only means happier customers, but results in more sales conversions too.
3. Trust
In 2021, Shopify overtook Amazon as the busiest ecommerce platform. The numbers are staggering. Over 300 million customers have used Shopify Checkout, which represents $100 billion in sales across 2.5 billion orders.
In other words, Shopify supports a vast network of loyal customers worldwide.
4. Close rate
High customer satisfaction equates larger sales. This is a well-known fact in all branches of commerce, which is why businesses of all sizes invest in raising their customer satisfaction.
Shopify's checkout experience is both simple and fast. This minimizes the window for prospective customers to quit out of impatience, get side-tracked with another task, or simply change their minds mid-purchase.
Shopify's accelerated checkout system, known as Shop Pay, further increases the conversion rate of Shopify stores because it beats the speed of third-party payment processors by a whopping 60%.
Subscription sales
For SaaS businesses, subscription revenue is the single best way to boost income. Shopify Checkout allows merchants to sell subscriptions as well as one-off products, which brings in an ongoing revenue stream.
Subscription sales also open up a whole other dimension of opportunities for third-party app developers.
Optimized for mobile
I'm old enough to be surprised that 70% of shoppers make their purchases on their mobile phones, but the fact of the matter is, that's just the world we live in. Shopify understands their user base well; their checkout process not only works on mobile, but is actually optimized specifically for mobile.
This means less faff for consumers, resulting in higher sales conversions than for checkout systems that refuse to acknowledge that the days of desktop buyers are fading.
Diverse payment methods
Shop Pay is a great way to pay on Shopify Checkout, but it is only one of many supported payment methods. Others include Visa, MasterCard, American Express, Discover, Apple Pay, and Google Pay.
Customers can also use popular local methods of payment, multiple currencies, and digital wallets.
Customer insights
Shopify not only collects a broad range of data on customer behavior, but also gives merchants free access to all the information the platform has gathered.
The best way to action this data is through Baremetrics. Baremetrics integrates with Shopify directly, and plugs all your financial information into your dashboard to create personalized insights into your business. Try it out for yourself with Baremetrics' free trial.
Best third-party apps to use with Shopify Checkout in 2021
While the full functionality of Shopify Checkout is offered as a part of Shopify's user plan, there are many third-party apps available via the Shopify app store to make the checkout process even better.
Here are some of our favorites.
One-Click Checkout allows customers to bypass the shopping cart page and go directly to checkout. This app is perfect for any shoppers in a hurry.
There are 3 price plans: a free plan, an unlimited plan at $9.95/month, and a priority support plan at $18.95/month.
One-Click Checkout scores an average of 4.7/5 stars. One review from Borealis Watch Company reads, ''Great app, allows to increase conversion rates. Support team is fast and responsive to questions. Definitely recommended.''

Multi Currency Checkouts+ gives users the ability to trade in multiple currencies without having to do any coding.
The basic plan is also free, while the standard plan costs $7.99/month, and the pro plan costs $8.99/month.
The app's overall rating is 4.7/5 stars. One review from Pet Creations Art Ltd. reads, ''Great app and helpful staff! They are happy to help with any requests and deal with them promptly! Would definitely recommend.''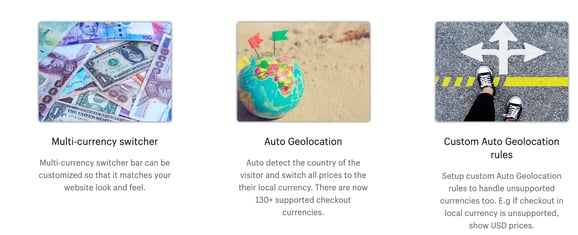 Product Warnings allows merchants to create popup warnings for different products in their shop. These could relate to shipping delays, sold-out products, or items available for pre-order, for example.
Product Warnings has a free version, as well as an unlimited plan for $9.95/month.
Their overall rating is 4.8/5. One review from Sun Active Inc. reads, ''Reached out to the developer requesting a minor customization to the app. They replied in less than 24 hours, were pleasant, and made the requested changes.''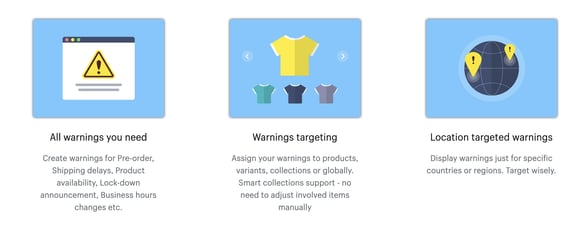 MultiBuy Sales Booster is designed to allow customers to buy multiples of a single product, or to add many different products quickly, without clicking through to the individual product pages.
They offer a single plan at $2.99/month.
This app scores 5/5 stars. A review from Viva La Vapes states, ''Overall this app improves the user experience tenfold. The help desk are responsive with a reply being sent through within 24 hours normally – max 48hrs. Highly recommend this app, it is simple and does the job.''

Customizing Shopify Checkout with the Storefront API
Users who have some coding experience can also customize Checkout manually using Shopify's Storefront API. Shopify offers custom storefronts as part of their plan, and has included a comprehensive guide on how to use this tool here.
Updates to Shopify Checkout from Shopify Unite 2021
Shopify Unite 2021 was one of the biggest Shopify Unite events in company history. Numerous substantial updates were announced, including Shopify Hydrogen and Oxygen for Shopify app developers, as well as a brand new version of the Shopify Partners dashboard.
One of the biggest changes affecting Shopify Partners was the revenue share change. App developers now pay 0% revenue on their first million in revenue every year, and only 15% thereafter, positioning Shopify as the most profitable platform for their partners compared to their competitors.
Shopify Checkout also got a makeover; here are some of the updates we're most excited about.
Speed and capacity improvements
Go big or go home, right? To give you an idea of how much the through-put of Shopify Checkout has improved, picture the sales frenzy of Black Friday and Cyber Monday. Shopify now enables every shop to process that same volume at any moment. That's almost 40,000 purchases per minute for every shop!
Secure app-building with Checkout Extensions
Shopify Unite has a long tradition of optimizing their platform for the benefit of merchants and Shopify Partners alike. In some cases, a single feature update caters to both ends of that user spectrum. This is the case for Checkout Extensions.
With Checkout Extensions, it has become much easier to customize Shopify Checkout. This not only opens the process up to more app development opportunities, but also provides merchants with many new options, such as in-cart upselling or including a donation button with a purchase.
Customizing Checkout with Shopify Scripts
Shopify Scripts allows developers to add a range of new functions to their stores, including in the checkout process. Shopify Scripts executes within Shopify, so can be scaled up at volume.
For example, a developer could create an app that displays estimated carbon emissions of different shipping methods, so customers can enforce environmentally conscious choices.
For merchants who wish to develop a different style of checkout, Shopify Scripts also allows developers to change the overall look and flow of this process as well.
Scaling with Payments Platform
Shopify's new Payments Platform replaces their legacy system of integrations, so that payment processors can connect with the Shopify platform more easily.
As a result, Shopify Partners can now create payment gateway apps. Shopify merchants will be able to spread to more niche markets, as well as sell in more locations across the globe.
Track your Shopify app performance with Baremetrics
If you want to optimize the way you build your Shopify app, we can help. Baremetrics analyzes your financial data to create personalized insights into how to improve your business growth.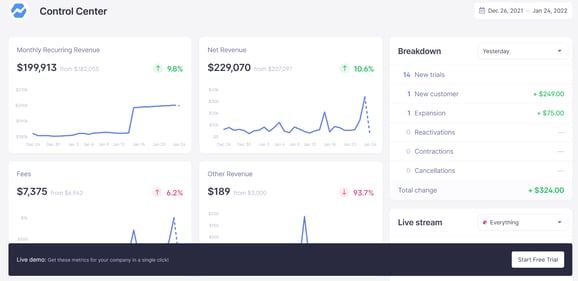 Baremetrics offers a range of financial insights, including a dashboard overview, financial forecasting, as well as detailed breakdowns of your data based on 26 separate metrics. Try it out for yourself with the free, 14-day trial.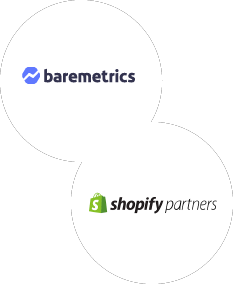 All the data your Shopify Partner app needs
Know instantly how your Shopify app is performing, what needs improving, and where to focus next.