Marketing is key to business success.
Think about it. If people don't know about your brand, they'll never buy anything from you and you'll go out of business faster than you can say "fire sale!"
Yes, marketing is necessary, but it's not easy. There's always a new strategy to try, more content to create, another social channel to engage customers on. The only way to keep up is to improve your workflow so that you can get more done in less time.
The five tools below will supercharge your workflow and turn you into a productivity machine. All you have to do is evaluate each option and choose the ones that fit your needs.
Let's take a look!
1. CloudApp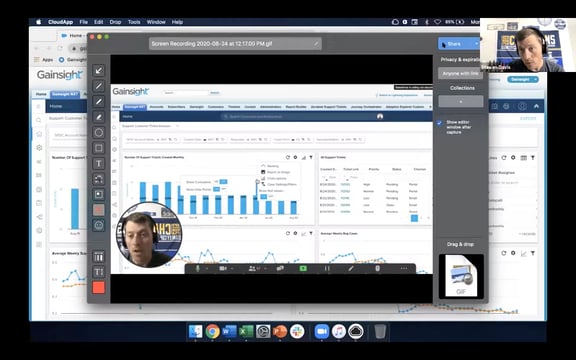 Source: CloudApp
First up, we have CloudApp, a visual communication platform that's been proven to boost productivity levels by as much as 300%—not bad! It does so by combining three tools:
A Screen and Webcam Recorder: With CloudApp, you can easily record your screen, your face (via your computer's webcam), or both simultaneously.

A Powerful GIF Creator: GIFs are those short, soundless videos you see on social media All. The. Time. Create customized GIFs with CloudApp.

An Image Annotation Solution: Use CloudApp to take a screenshot of your computer screen. Then add text, arrows, emojis, and more to it in seconds.
"Cool," you're thinking. "But how do screen and webcam recording, GIF creation, and image annotation features improve my marketing workflow?" Fair question…
Think back to the last time you sent an important email to a colleague. How long did it take you? If you're like most people, the answer is too long. It takes time to craft written messages that include all necessary information and are easy to understand.
Now, imagine how much time you'd save if you could simply click a button on your computer and record yourself talking to the camera. You wouldn't have to agonize over the right words. You'd simply speak your mind like you do when you talk to people face-to-face.
CloudApp excels as an internal communication tool. But it can also be used to create top-level marketing content. Record your screen to make software product demos. Capture screenshots and add them to your landing pages. Create GIFs for social media.
With CloudApp, every aspect of your workflow, from communicating with teammates to creating content for your audience, becomes easier. Start with a free account, and then upgrade for unlimited recording and custom branding for $9.95/month.
2. Trello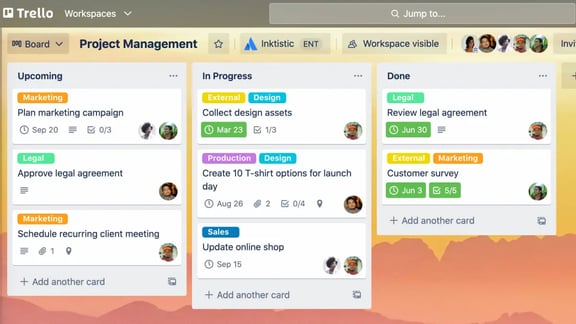 Source: Trello
Trello is a popular project management tool that's used by the likes of Google, Ebay, and Costco to organize projects and boost collaboration between team members.
The app is built on the Kanban methodology. Users create Trello boards, then populate them with cards, which can be organized into different lists, AKA columns. Cards, which represent tasks, can be assigned to specific team members and include due dates, attachments, and conversations. As projects progress, cards can be moved from list to list in real time.
Let's pretend you were just hired to run Awesome Company's blog—congratulations!
The first thing you do is create a Trello board and name it "Awesome Company Blog". You then add four lists to your board: the first you call "Ideas," the second you call "Writing," the third you call "Editing", and the fourth you call "Published."
Next, you create a different card for every blog topic you can think of and add them to your "Ideas" list. Each card contains target keywords, a potential due date, etc.
When you're ready to start working on a blog post, you move it's corresponding Trello card from the "Ideas" list to the "Writing" list. You then repeat this action throughout the blog creation process until the piece has been published and its card is in the "Published" list.
Trello also includes built-in automations to streamline work, and integrations with thousands of other tools like Google Drive, Slack, and Dropbox.
All said, Trello is a super intuitive tool, which is why marketers of all stripes use it to improve their workflows. You can use it, too, for $0 – $17.50 a month, per user.
3. Buffer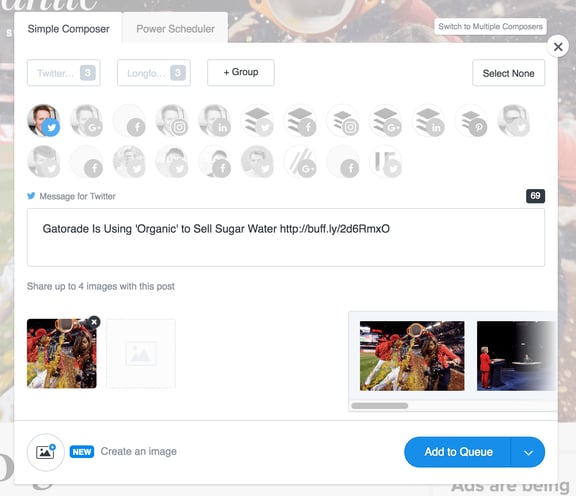 Source: Buffer
Your company's on social media, right? Then you know how time-consuming it is to create and post content, respond to comments, analyze metrics… If you're not careful, the Facebooks, Instagrams, and Twitters of the world will completely wreck your workflow.
To make sure social media doesn't suck up your day like a blood-hungry vampire, get Buffer.
Buffer is an intuitive and affordable social media management tool that allows users to schedule their social content ahead of time. You simply log in, tell Buffer what you want to post, where you want to post it, and when you want the post to go live.
Buffer will then publish your content at the appointed time, notify you of comments so that you can respond to them, and track each post's performance for you.
Imagine this scenario:
It's Monday, January 3rd and you're ready to dominate 2022. But most of your clients are still on vacation and you don't have any projects to work on. What do you do? You log in to Buffer and schedule your brand's social media content for the entire month!
Once done, you won't have to worry about social media at all, aside from responding to the comments you receive, until February 1st. You can spend all of your time on bigger, more important business initiatives. Talk about improving your workflow…
You can start using Buffer for free, and if you like using the tool and want access to premium features for analytics and engagement, upgrade to the "Essentials" plan for $5 a month, per channel.
4. Canva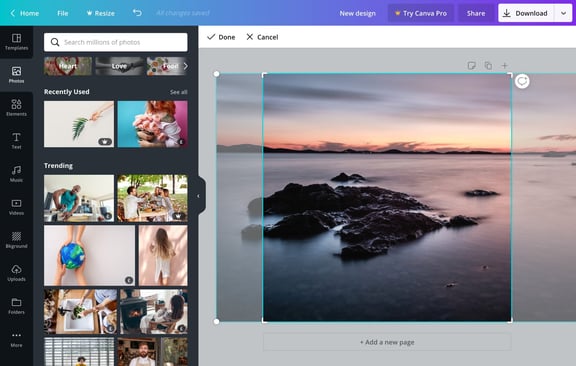 Source: Canva
Did you know that 80% of people remember what they see, but only 20% of what they read? Or that Facebook posts with images get 2.3x more engagement than text-based posts?
Maybe this is why publishers who post visual content grow 12x faster than those who don't.
The problem is, most of us are design-challenged, AKA we couldn't create a visually pleasing image to save our lives. Raise your hand if you're in this group? Don't worry! Canva is here to help you craft stunning visuals in no time flat.
With Canva, the most design-challenged of us all can create eye-catching social media images, infographics, promotional flyers, logos, and videos. Here's how:
Create a free Canva account and log into it.

Choose from one of Canva's professionally-designed templates.

Customize it with text, shapes, photos, and backgrounds from the Canva library.

Edit your image until it's perfect. Then download it and use it as you see fit.
And that's it! Working with Canva is so easy a monkey could do it, which is the whole point. But all of this functionality won't cost you an arm and a leg. Expect to spend somewhere between $0 and $10 a month, depending on which features you need access to.
For design-challenged, budget-focused professionals who want to improve their marketing workflows without harming their bottom lines, Canva is a godsend.
5. Grammarly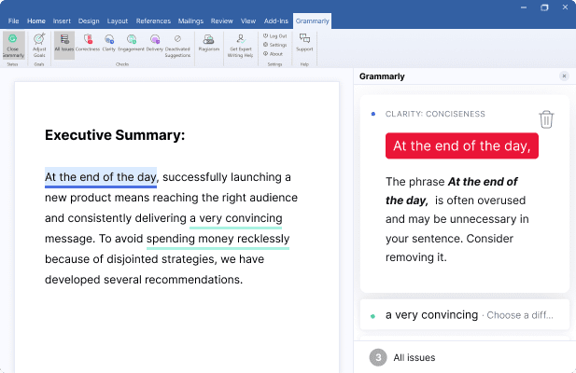 Source: Grammarly
Every marketing team is different. As such, we all use different strategies to promote our companies and products/services. That said, there's one thing just about every marketer has in common: the written word. You can't really market a business without it.
It doesn't matter if you're crafting an email sequence, creating social media content, working on a blog, or putting together a PPC campaign, you have to use words.
Grammarly is an online writing assistant that helps users craft "bold, clear, mistake-free" content via cutting edge artificial intelligence (AI) technology. In other words, the app will help you cut back on spelling and grammatical errors, while improving your tone and style.
The best part about Grammarly is it integrates with a bunch of apps, including Microsoft Word, Gmail, Slack, Evernote, Salesforce, Facebook, LinkedIn, and Twitter. This means that you don't have to alter your workflow to use Grammarly. Win!
Grammarly offers three different plans:
Free: Check spelling, grammar, and punctuation with this plan.

Premium: Get everything in the "Free" plan, plus AI-powered suggestions regarding sentence clarity and tone, a plagiarism detector, and more.

Business: Get everything in the "Premium" plan, plus the ability to create a company style guide, access to analytics, priority email support, and more.
The "Free" plan is, well, free. The "Premium" plan starts at $12 a month. And the "Business" plan will run you $12.50 a month, per user (with a minimum of three users.)
Supercharge Your Marketing Workflow
To succeed in marketing, you have to improve your workflow. It's the only way you'll be able to get everything done. Fortunately, the five tools above will help!
Improve your communication and create better content with CloudApp. Keep track of projects and collaborate with colleagues with Trello. Stay on top of social media with Buffer. Turn yourself into a design pro with Canva. And unleash your inner Hemingway with Grammarly.
What do you think? Did we miss one of your favorite productivity-raising, workflow-boosting tools?