Content marketing is one of the most effective methods of generating brand awareness and brand preference specifically among your ideal target audience.
The purpose of this marketing strategy is to attract organic traffic to your domain, and establish your business as a trusted authority in that area. Once users are in a position to invest in such a service, your SaaS should be the first that comes to mind.
Quality content is also the key to organically climbing the search engine ladder.
Anyone who searches for keywords related to your field should immediately come across your service. As a start up in a competitive industry, coming up as the 11th search result might sound impressive, but it won't do you much good – when's the last time you've clicked through to the 2nd page of a search, whether it's for a query, a one-off purchase, or a service?
A secondary benefit of this strategy is that the scope of your content can extend beyond what your services directly offer. In other words, the keywords on your content pages will cast a wide net, and attract many different types of audiences, even outside of those users who have found your domain by searching for a particular service. This wide net will primarily grow your web traffic, not sales – but that in itself is an important step in moving up the SEO ranks.
Building an organic audience through content marketing is also one of the most cost efficient marketing strategies available to SaaS start-ups that can't afford to invest in expensive ad placements.
Good content marketing is different for every business, however.
For some companies, adopting a bare bones approach that perfectly optimizes a single landing page is the most effective strategy.
For other businesses, an expansive blog-style platform reaps the full benefits that content marketing has to offer.
Take Baremetrics for instance. We've taken the approach of sharing every piece of our journey, so it may help other SaaS businesses out there take their first big leaps, and that's worked very well!
So, how can better content marketing help YOU?
If you're asking yourself how much time, energy, and finances you should be investing into developing your content, look no further. This guide will take you through the ins and outs of what kind of content works best for different types of businesses, and provide some handy 'dos' and 'don'ts' to make the most of your platform.
By the way, for a complete step-by-step course on content marketing, take a look at our guide on marketing success, and our glossary of key content marketing concepts.
Whatever marketing strategy you choose, use Baremetrics to monitor your sales data.
Baremetrics makes it easy to collect and visualize all of your sales data. When you have many clients, it can be difficult to calculate your MRR, ARR, LTV, and so much more. Thankfully, there is Baremetrics to do all of this for you.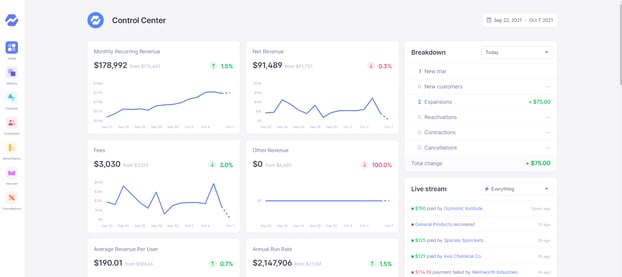 Your SaaS company likely uses a CRM and/or payment processing software, and the data required to compute these core metrics can be all over the place. Integrating innovative software that can cull MRR values from CRM and payment processing systems is a valuable shortcut.
Here too, Baremetrics can do all this for you.
Is long-form content marketing right for you?
Some types of businesses are more likely to find success through building an expansive, content-driven platform than others.
Here are some signs that your SaaS can hit it big with content marketing:
Your business is fairly niche, or doesn't have a lot of direct competition

Your competition's SEO is fairly weak – lacks skill or funding

You or your staff are skilled at writing quality content, and have the human resources to consistently put out articles on a regular basis

Your niche is well-suited towards content creation – you can easily incorporate popular search terms and keywords in your articles that remain relevant to your core business

You can contribute new ideas and perspectives to the existing dialogue on various topics

Your ICPs are interested in reading about topics related to your business

The service you provide is broad enough to support on-going, relevant content creation
On the other hand, here are some indicators that you might be better off sticking to bare bones content optimization, and put your resources towards different types of marketing strategies:
Your business has a lot of direct competitors

Your market corner is already saturated with SE optimized content

Most of the keywords relevant to your business are low-volume, in other words, areas where you can sensibly create content are not being searched for often

Your team's pool of skills doesn't extend to content writing, or you're already up to your eyeballs in the countless other areas of SaaS management vying for your attention
Of course, this isn't to say that if your business displays the latter traits, you absolutely shouldn't build a content-driven platform. This is simply to suggest that if you were to embark on such an endeavor, expect to allocate a lot of resources before seeing any real returns.
Tips for long-form content marketing
So, let's say you've decided to throw your hat in the ring to create some high quality content. Great! But what does that look like, concretely?
The good news is, there are plenty of different approaches you can take; the format of your content is entirely up to your values, and the interests of your audience.
At Baremetrics, our blog entitled 'Founders Journey' promises its audience the opportunity to 'read about true experiences, challenges, and what the road to success really looks like straight from the team behind Baremetrics.'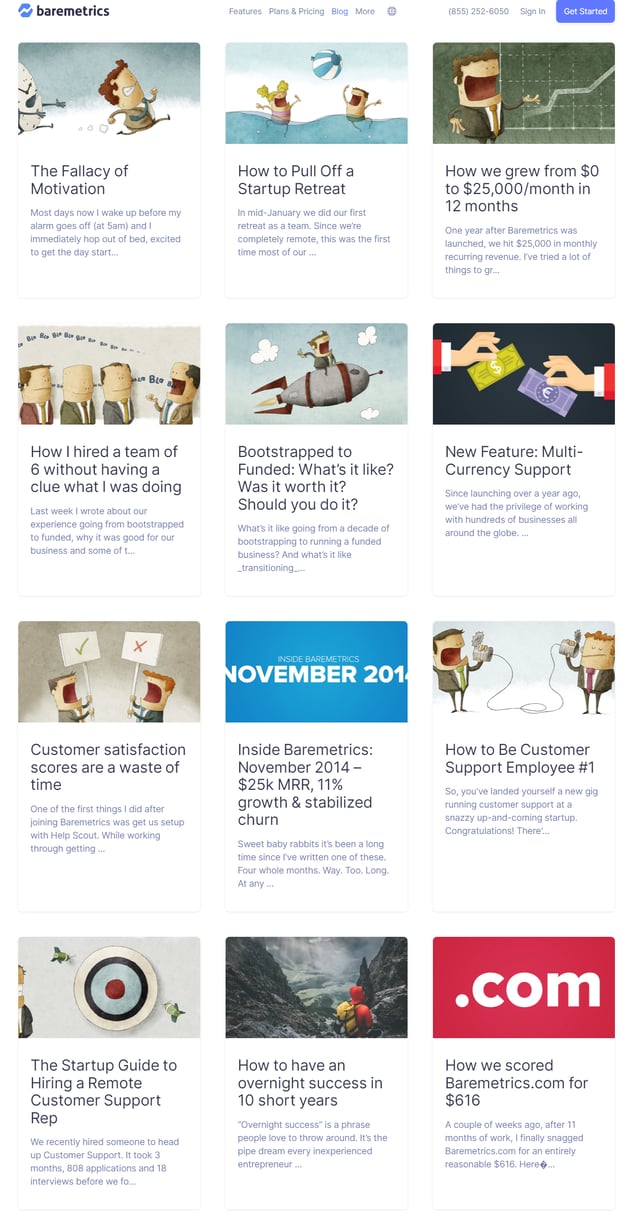 This blog was born alongside Baremetrics's launch in 2013. Narrated by founder Josh Pigford, the platform quickly went semi-viral for delivering on its firm promise to provide a window into founding a SaaS start-up, maintaining open books through every trial and every tribulation.
If you've been following us for a while, you'll have noticed that the blog's content runs the gamut of topics of possible interest to SaaS founders, including:
Founder tips

Mental health insights

Business updates

Financial advice

Company manifestos
There's a little bit of something for everyone, while staying true to the Baremetrics core values.
Feel free to incorporate any of these ideas into your own long-form content. If lack of time or blank page syndrome are two of your main enemies, here are also some tips on writing quality content in short bursts of time.
All the data your startup needs
Get deep insights into your company's MRR, churn and other vital metrics for your SaaS business.
Of course, having amazing quality content isn't the only factor: you need to make sure people can find you.
Take a look at these SEO guidelines to assure you'll land a high search engine ranking, and connect with your target audience:
The first paragraph of every content page should work as a stand-alone that invites clicks – imagine the first 160 characters as your article snippet

Don't stuff keywords. About 5 repetitions per article is plenty to attract traffic, and vastly more will only raise search engine eyebrows and might even penalize your SEO ranking

If you have content overlap between different pages (for instance if you're creating localized pages for the US, Canadian, and Australian markets), make sure that more than 80% of each article is unique, and that the new content is raised to the top of articles, with boilerplate information pushed to the bottom

When major SEO regulation changes or algorithm updates are brought into effect, re-optimize your most visited pages so you stay on top of the search engine results

Don't over-optimize anchor texts, as this will be marked as suspicious by Google's detection tools

Find possible topics using Google Search's autocomplete and 'people also ask' features

Source further topic ideas by asking your current customers and prospects what they're interested in

Cross-post article snippets on your other platforms and send notifications to garner attention when you release a new article
If you want to go more in depth into search optimization, this guide takes you through every step of the sales funnel with growth-focused SEO in mind.
Tips for minimalistic content marketing
If you have a website, you have content. It might not be much in terms of quantity, but that's all the more reason to make it as effective as possible.
Here are some key tips on optimizing the content you have:
A/B test your landing page for layouts that best support your sales funnel

Find the best keywords for you, and place them strategically. Tools for this include:

Keywords Everywhere extension on Google Chrome

Ubersuggest

Keyword Planner

SE Ranking

Buzzsumo

Submit an XML sitemap to Google's Webmaster Tools (WordPress templates have a plug-in for this, otherwise make sure an expert is handling this as it's easy to mess up)

Make sure Google knows how to categorize you – use a schema markup generator, and test that mark up using a separate structured data testing tool so you don't accidentally trigger a 'spammy structured data markup' penalty from Google

Make sure keywords account for a maximum of 2% of your total content – you can track keywords with a keyword counting tool

Google keywords and phrases relevant to your business, and look at the autocomplete suggestions, as well as the 'people also ask' questions. Make sure to cover these points in your landing page information

Monitor your traffic, and follow up on any major losses of traffic by performing an SEO audit – you might be being penalized, or have landed in algorithm limbo during the latest update. The earlier you can diagnose and isolate the problem, the quicker you'll be back on track

A/B test EVERYTHING. Tweak until you're seeing your landing page in your dreams, and then tweak some more!
Those are some ideas to help you perfect your content, whether long-form or barely-there.
And what if content marketing isn't for you? Perhaps these alternative marketing ideas have the right strategy for your SaaS business.
Don't forget to check out the Baremetrics free trial – you'll have a full 14 days to gain really important insights into your business financials, customer behavior, and so much more. Sign up right here!