Growing traffic into conversions is the ultimate goal for all of us, but is your site stagnating despite all your best efforts?
Sure you may have all the textbook strategies in place, integrating applications, subscriptions, site registrations with member discounts, etc. but there is more to it than 'If you build it they will come'.
In short, it's not what you do, but how you do it.
If you're looking for strategies to push your conversions to new heights – it takes more than simply pushing products out on Google, you need to tap into building a growth focused sales funnel. So what exactly does that entail?
What stages does a website funnel include?
You've probably heard of a website funnel, but just in case you haven't, here is the gist. Traffic pours in from a high level overview of a product and flows down to a point of conversion, whether it be a sale, vote, subscription, or other desired user behavior.
Looking at the basics, a conversion funnel is no more than a relationship between Entity ⇾ Action. You present the product (entity) to your target audience via the SERP, and expect a behavior in return.
You can determine the typical user journey through the funnel with the following 4 step process:
Awareness
Interest
Decision
Conversion
At the surface these steps may seem self-explanatory, but each has its own intricacies for success. Let's dig into them in more detail.
SEO techniques to increase the effectiveness of your funnel
Before plotting out our course, let's first remember the cardinal rule of any promotion as defined by the marketing guru Simon Sinek.
"People don't buy what you do, they buy why you do it." — Simon Sinek
By looking back at the four stages of the user journey, let's build off of these concepts to increase the effectiveness of your funnel during each stage of the buyer's journey.
900+ Companies Use Baremetrics For Growth
Get deep insights into MRR, churn, LTV and more to grow your business
1. Awareness
Expected result: The site is ranked for queries in the subject, and the target audience sees it in search results.
Here, our main objective is visibility.
In the old days, sites often promoted themselves with the spam and pray method – carpet bomb the www realm with links and emails, hoping for results. These tactics not only no longer work, but are also a fast track to getting filtered out of the SERP. Take it from Forbes, a reputable publication, who learned the hard way when they themselves were penalized in 2011 for selling links.What exactly works today?
To increase visibility, you must add valuable and relevant content. If you do this, search engines will begin to view your pages favorably. Here's how to do it:
Step 1 – Analyze niche search queries
Google records all requests users make to the search engines.
Query statistics will help you discover which phrases your target audience searches for, taking into consideration several factors including geographical region, your personal search history and other habits the search engine monitors.
Where can I get query statistics?
One way to see Google's query statistics is to use the Keyword Planner tool. It's part of the Google Ads service. To access the planner, you need to log in to Google Ads using Gmail and create an account. Keyword Planner can autocomplete options in the search bar and then reproduce them in a systematic way.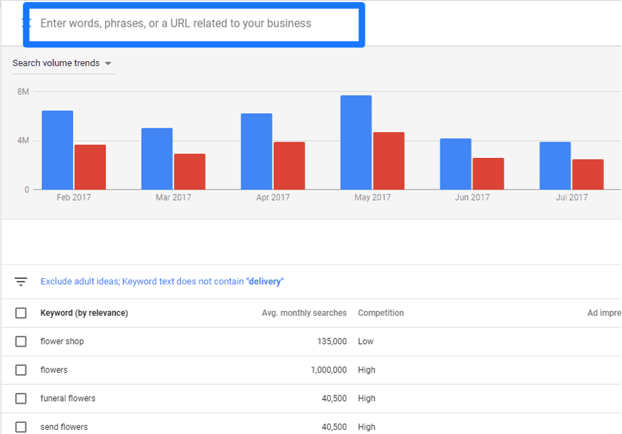 Another option is a platform for SEO specialists, which derives statistics from different sources, such as SE Ranking or Ubersuggest, which can help establish key search query variations.
How do I search for query variations?
First, you need to identify the seed keys of your semantic core, the keywords and phrases of your niche for your target audience to find you. For example, an outdoors outlet may have a large section for camping equipment containing sub-categories for tents, sleeping bags, and other equipment.
The name of the game here is to find the balance between relevance, and keyword difficulty.
Sure, "camping" sounds great, and describes exactly what we are offering, but if you're going up against heavy competition who have unlimited budgets, it'll be quite the uphill climb to get any results… And quite expensive too.
Instead, let's follow a data-driven approach to strike the best effort to reward ratio.
Taking your seed words and phrases, you can generate a Keyword Research report in SE Ranking that will detail the difficulty, search volume, and related queries to help define your strategy.
Looking at the following table, we can determine:

As you see, Similar queries are close to your seed keywords, which usually have the same "root" ("sleeping bag for child," "ultralight sleeping bag").
The Related columns are variations of the same keywords that are close to the subject. According to them, the same pages are ranked as the ones ranked according to seed keys ("camping blankets," "outdoor vitals aerie").
Low search volume queries involve three or more words. They are also called long-tail keywords ("backpacking sleeping bag comparison," "alpine designs sleeping bag 0 degrees").
You may be asking, "which keywords work best for your conversion funnel?" Let's take a look at picking out the best options.
Step 2 – Select relevant keywords
So how do I determine what's relevant and what's not?
First, retrieve the keywords that match the site's subject and delete the irrelevant ones.
For example, the queries "military sleeping bag" and "cotton sleeping bag" can be removed if they are not in the range of your products. By selecting relevant keys and eliminating unnecessary ones, you form the semantic core of the site.
When selecting prospective keywords, such parameters as the query's intent and search volume are important.
How do I select queries by intent?
Are you focusing on a particular geographic location or a specific purpose for your offers?
A query's intent is the user's intention or purpose behind their request to a search engine, e.g., to order a specific service in their city or buy a product from a specific brand.
When keywords on a website match the intent of potential customers, this generates high-quality traffic and more conversions.Put yourself in your customer's place and ask,
What are my customers trying to solve with their search?
How can our products offer a solution?
Examples of queries with different intents
Commercial queries: includes words indicating consumer interest: "buy," "order," "price," "shop," etc.
Content-related queries: indicates interest in a subject area and may include searches for definitions ("what is it"), various selections ("top brands," "brand review"), and questions on the subject ("how," "where," "why").
Branded queries: contains the name of a manufacturer or company.
Geographical queries: contains the name of the region and helps promote the site locally.
Your goal should be to focus your attention on matching keywords with user intent.
For example, "sleeping bag hiking New Hampshire" identifies a specific purpose as well as a geographic location. Keyword modifiers will help you a lot with setting up the particular keyword to the user intent.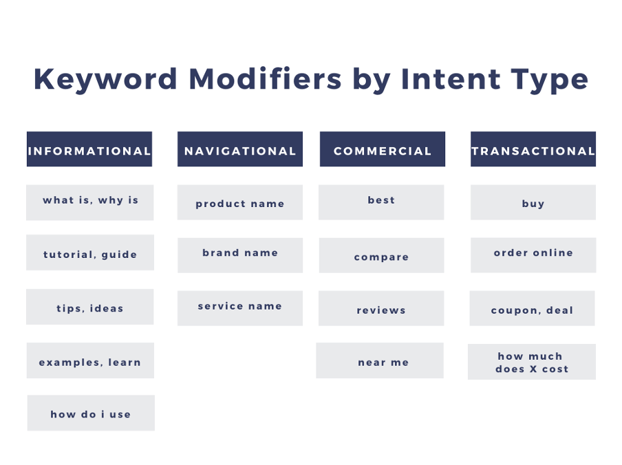 Source: Galacticfed
But what if you have a great semantic core, without getting much traffic? That's where the search volume plays a critical role.
How do I select queries based on search volume?
As mentioned above, search volume affects the number of displays and site traffic. Avoid selecting queries that have a very low search volume. At the same time, queries with a very high search volume, as a rule, face more competition, and it is difficult to get to the top positions.
The Difficulty parameter helps when evaluating the effort of promoting a keyword. When going through SEO output reports, and unless you have unlimited resources to try to break into the market, steer clear from overly saturated key phrases.
We recommend selecting keywords with the optimal search volume and difficulty among that match topic and intent. In the long run you'll find you get the best bang for your buck.
Step 3 – Analyze the keywords of your competitors
Take a look at the keywords your competitors are focusing on and try to spot any weaknesses in their strategy. You may have noticed that Google doesn't offer a competitor analysis tool, so be sure to choose an SEO platform that will give you the information you need to rise above the competition.
Looking at the following table, do you see any opportunities in the 'chocolate cafe' industry?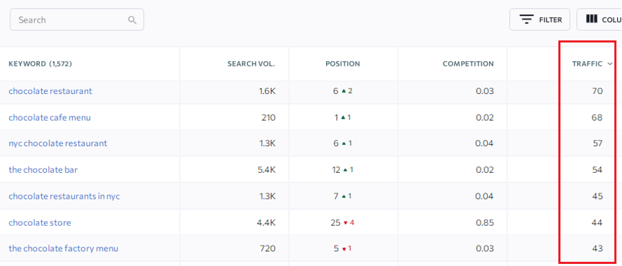 Step 4 – Allocate queries among landing pages
When analyzing your keys, do you notice any similarities between them?
An important step is placement, that is ensuring your target audience gets from point A (the SERP) and point B (the product page). This is done by tailoring your keys for a specific landing page. While mixing keywords from different groups on a page is acceptable, best practices are to remain relevant between keywords for optimal results.
For example, sites that describe several products. In this case, you should divide the text into thematic blocks, selecting a different key for each one. This will help search engines better identify the subject of the content.
2. Interest
Expected result: users find the site pages in search results interesting and relevant to their queries and go to the site.
Have you ever searched for something only to find the SERP doesn't contain the results you're looking for? This is a common issue, particularly when events such as trending news overshadows your landing page's intent.
For this reason, quality vs quantity will almost always win the day. Focus on providing an excellent user experience that adds value and answers specific search queries.
And how do we accomplish this?
Step 1 – Create a content strategy
The right type of content, depending on the niche and the needs of the audience, will help generate user interest. This can be reviews, instructions, news, and other articles.
In addition to texts for landing and sales pages (homepage, categories, product, and service descriptions), it is worth creating an article section or blog. Useful texts with the right keywords will attract enthusiasts in your niche and as a result, conversions for the site.
Here's an example of optimizing landing pages: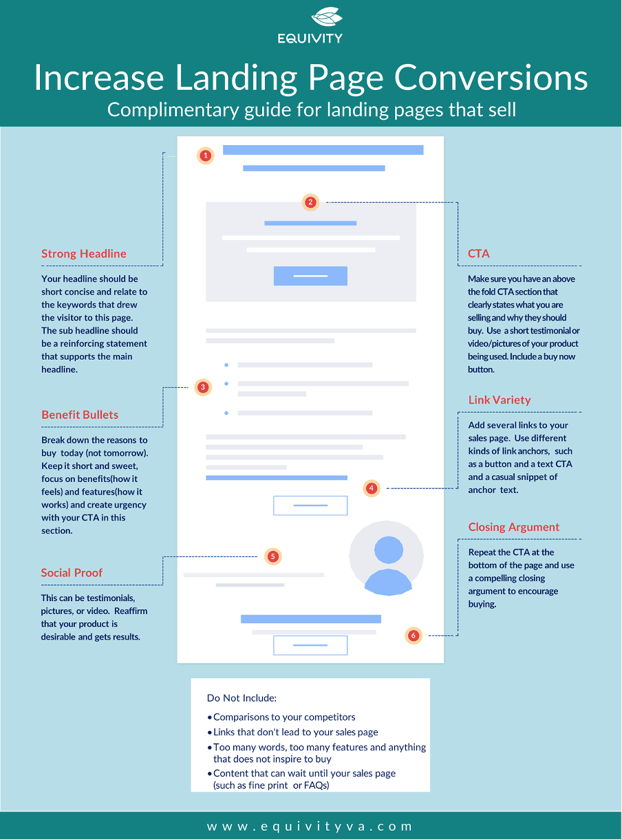 Source: Equivity
Step 2 – Optimize texts for queries
Often, we get lost in the technical aspects of our SEO activities that we forget our ultimate goal of bringing in more traffic. Whether you hire content writers or follow a DIY approach, always take a step back and read through the lens of prospective customers who may have little knowledge of your offerings.
As an uninformed browser, ask yourself the following questions: does your site look appealing? Will it answer my questions? Will it provide me with the products I need?
Once you have the scope of the reader's perspective, we can then focus on having the technical requirements mould into the needs of the audience.
Structure (headings and lists make the material easier to understand for both users and a search crawler)
Uniqueness (the closer to 100%, the better)
Volume (the text should be informative and explain the topic)
Balance of keywords (they should appear in the text organically, without frequent repetitions)
Step 3 – Improve the optimization of existing pages
Experience has shown that SEO is an ever evolving process. Even thinking about trends from a few years ago… Ice bucket challenges, Pokemon Go, Justin Bieber, we can see that staying on top of the SERP is never a finished process.
Landing page improvement and updating is the back-bone of maintaining high organic search rankings to get customers to find their way to your conversion funnel.
It's highly recommended when putting together your SEO strategies for key pages, to periodically re-run an analysis to ensure your original strategy is still within the scope of current trends.
Be sure to eliminate dated content and replace it with something fresh for readers to take interest in.
Step 4 – Adapt content for voice search
Ever have an impulse for a coffee or a bite to eat and couldn't be bothered typing in your search? You're not alone. Voice search is hot and it's not going away.
According to Invespcro, voice shopping is targeted to hit over $40 billion in the USA by 2022.. To optimize your site for voice search, add keywords that are as close to spoken language as possible, i.e.,
"Who was William Henry Harrison", "Where to find cheap gas", "What concerts are tonight".
Step 5 – Create attractive snippets
People click with their eyes and the appearance of a page in the SERP determines its clickability. Create informative and attractive snippets to help increase the organic CTR. Let's discover what points you need to include in your SEO strategy to boost the effectiveness of your pages in SERPs.
Setting up Title and Description
Anyone who's been involved with naming a brand or project knows the never ending back and forth of finding that perfect name that sounds interesting and describes a product.
Presentation is everything, especially in SEO, but here we are lucky as the goal is to be as informative and concise as possible.
So what goes into drafting the best title and description for your site's snippet?
First, the title and description must be unique. It is also important to maintain the optimal length when filling them out.
There are no strict rules about the number of words, but consider that about 60-70 characters for the title and 160-180 for the Description will generally fit on a SERP. To increase CTR, add call-to-action phrases, structural elements, and emoji to your snippets.
Optimization of pages for Rich Snippets
How do rich snippets differ from the usual ones with the title and description? Additional elements – star ratings, cost, product availability, a FAQ section, and others. Such snippets are more informative, and attract more attention. Usually, Featured snippets appear when a user is looking for an answer to a question or information like "what is it," "how to do it," "where is it," "top of the best," and so on.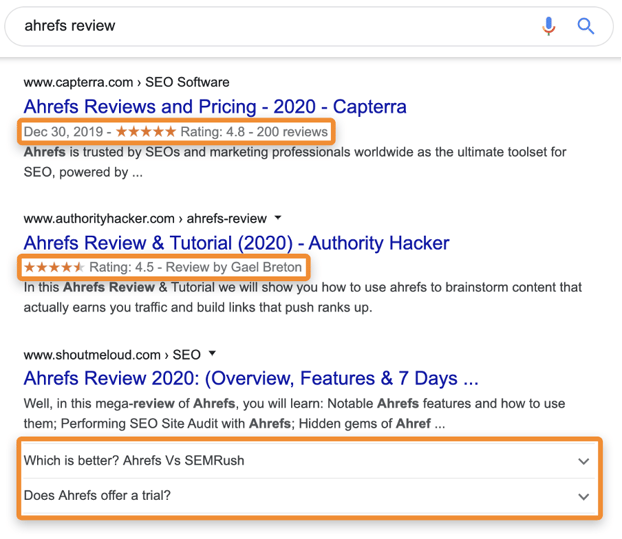 But how do you get rich snippets?For your pages to be displayed as a rich snippet in the SERP, you will need to add micro-markup to the HTML code by attributing the proper data types to various content fragments.
There are several ways to do this, for instance, by using a special CMS plugin or Google's Markup Helper. When you add these features, your search presence will pop-out to users and generate more interest to your pages.
Optimization of pages for Featured Snippets
Having a few snippets is not a guarantee they will display on the SERP. It's up to Google to decide when to generate featured snippets and which sites to show in this block.
Still, more often, such results display pages that are already in the top 10 for similar queries and have well-structured content, with a text related to the question and a clear answer to it.
So, the best way to get your rich snippets to display in the results, is to ensure the pages are highly optimized with valuable content that stands out amongst your competitors.
Make Data-Driven Decisions with Confidence
Baremetrics measures churn, LTV and other critical business metrics that help them retain more customers. Want to try it for yourself?
Leverage technical SEO to drive behavior that converts
Even if your site features compelling content paired with the best keywords and graphics, a technically inept site will fall to the depths of the SERP. So let's take a look at how technical SEO drives behavior and builds conversions.
3. Decision
Expected result: The site's content meets user expectations. They can easily find the information they need and see value in the resource.
No matter how useful your content is and how exceptional your website structure, slow loading speed, and incorrectly displayed pages can wash away all your efforts.
Several optimization techniques can help improve a site's usability, make a positive impression on users, and lead visitors to purchase. Here's how we guide the user to the decision making process.
Step 1 – Track Core Web Vitals
If we take a look into changes Google made to its ranking algorithms In 2021, we see they started taking Core Web Vitals into account.
What are Core Web Vitals?
They determine how quickly and correctly the content of pages is displayed. Here are a few elements Google references.
The Largest Contentful Paint (LCP) indicates how quickly large elements are displayed. First Input Delay (FID) indicates the period from clicking on the URL in search results to the response of the browser displaying the page. Cumulative Layout Shift (CLS) is an indicator of the shift of page elements as they load.
The rule of thumb is to think lean with the design of your landing pages. You can best achieve this by minimizing Javascript, compressing image files, and using thumbnails where practical and rewriting any spaghetti code that may exist.
You can view the Core Web Vitals in Google Search Console (if you verify your rights to the site) and other SEO services.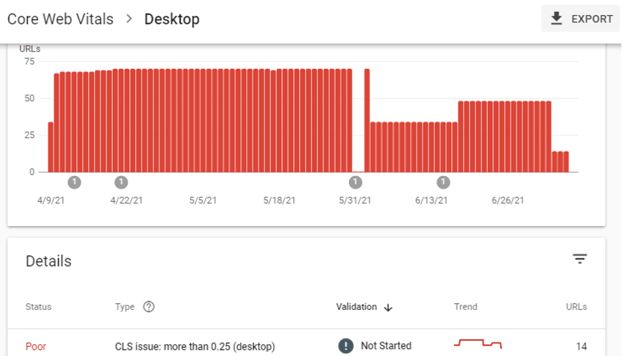 Step 2 – Optimize images
You may be thinking that graphics and videos are key drivers in moving products, which is true.
But imagine you're on a site that seems to have exactly what you are looking for but the page takes forever to load so you click back and choose the next option on the SERP rendering all those images and video presentations useless.
To avoid this, analyze the size of images with special tools and find and optimize bulky files.

Step 3 – Optimize the site's mobile usability
In short – Adaptive website.
On the go and need to find out what's playing in the cinema tonight? Heading home from work and don't feel like cooking, but you're in the mood for Thai food? Friends ask what you want to do tonight and you want to check what events are downtown? Mobile devices are taking over the digital marketplace and for good reason – convenience.
More and more users convert using smartphones compared to laptops.
If a website doesn't display properly, content doesn't fit on the screen, or loads too slowly, users bounce and the number of conversions fall. Not to mention, Google prioritizes sites that feature mobile adaptability.
To keep your site in the top, analyze the quality of your website's adaptability for smartphones and improve these metrics.
Factors to consider: the presence of a viewport tag responsible for display on different screen sizes, the text to HTML ratio, which affects speed, and others.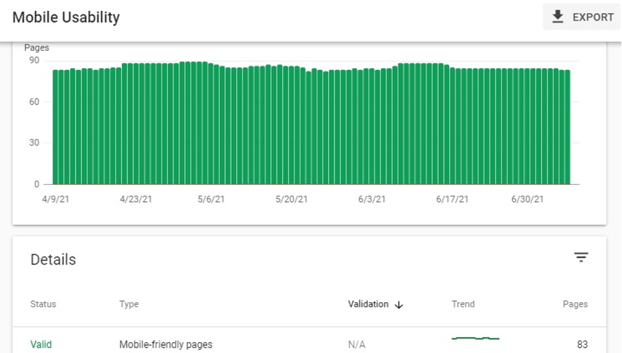 Step 4 – Analyze the behavior of website visitors
Looking at your site, do you notice some pages getting a lot of traffic, but no results? Perhaps there are even cases when users spend a good amount of time on your site but sales remain flat, why is this?
The exact way a user interacts with a website helps find the strengths and weaknesses of the resource. Here are a few indicators that will be useful for analysis.
A list of the URLs which users come to a site. It helps find the most effective pages in terms of traffic and those that need to be improved.
The time from the moment a user enters the site to the end of a session makes it possible to identify pages and keywords that lead to shorter sessions. Typically, this indicates that the page content is not meeting user expectations. The reason could be content, poor usability, or other issues.
With this indicator, you can find out the number of users who didn't view more than one page on the site. Similar to Average Session Duration, it helps find and fix weaknesses in the content and internal optimization.
If a visitor has viewed more than one page, this indicates the desire to learn more or perform an action on the site.
As with other parameters, it is worth tracking the correlation of pages/sessions with keywords.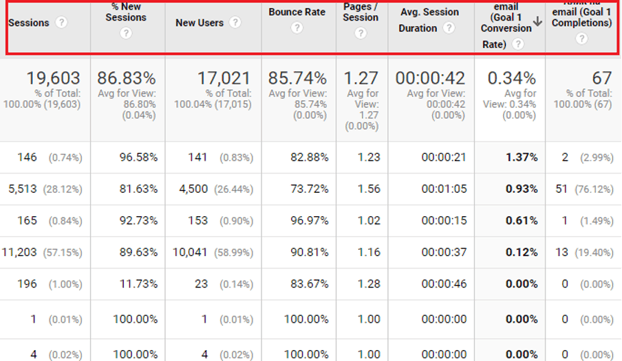 4. Conversion
Expected result: visitors to a website make conversions, and tracking those actions allows you to deepen your analytics, know the conversion rate of all keywords, and use this information in different SEO strategies.
So now we've made it to the primary objective of the user journey, building our customer base. Let's see how to analyze user actions on a website and link that data with SEO to get the conversion funnel flowing with velocity.
Step 1 – Track website conversions
Building yourself some benchmarks is a great way to generate a site report card to measure expected results vs actual results and will give you a starting point to measure the success of your efforts.
One way to track conversions is to set up Goals in Google Analytics, defining the desired actions of visitors to the site. For example, you can specify the URL of the landing page, the expected duration of content viewing, and the action (filling out a form, subscribing to a newsletter) as the goal.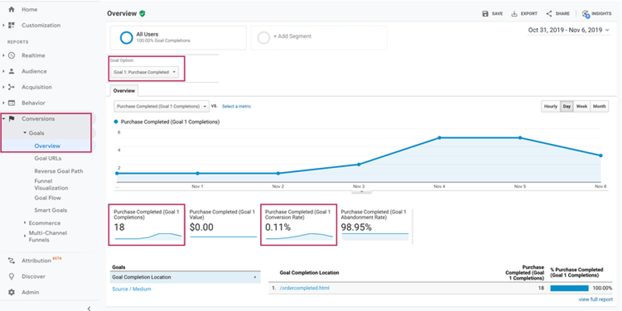 As a result, the system will record all of the specified user actions, and you'll get more detailed and informative statistics.
Step 2 – Analyze the conversion rate of keywords
Earlier we covered in detail the importance of selecting the right keywords and building your semantic core… But did we choose wisely?
Conversion tracking allows not only analyzing the traffic to target actions ratio but also seeing which keywords are most effective for the website. You should pay more attention to them by increasing optimization and monitoring their positions in search results using a rank tracker like keyword.com.
In the beginning we may have selected what we thought were the best keywords, phrases, and placements on landing pages, but the SERP tells a different story. Tracking our conversions will give us a sobering story if our semantic core isn't working and it's time to make adjustments.
The Bottom Line
Marketing is one of those games that can be a bit unpredictable. From emerging trends to search engines re-working their algorithms, frequent changes are to be expected.
That's why your company's investment in SEO should be seen as a work in progress.
With the help of the SEO techniques above, you're able to increase your website's efficiency at all stages of the funnel. What are you waiting for?
SaaS and subscription businesses rely on Baremetrics to analyze key metrics and accelerate their growth. Start a free trial today.
All the data your startup needs
Get deep insights into your company's MRR, churn and other vital metrics for your SaaS business.