Free trials can be a tricky thing for SaaS companies. Success depends on a lot of different factors like overhead costs, volume of users, the average length of your sales cycle, and more.
While a trial pricing model might seem like a great way to attract new users, how do you really know your trial is working if you're not tracking your trial conversion rate?
That's why subscription reporting is a critical way to get the insights you need to achieve better results from your free trials. By tracking metrics related to trials, you'll also be able to understand how they're impacting the overall health and growth of your SaaS business.
Read on to learn more about tracking your trial conversion rate and how subscription reporting can help. We'll also cover three key subscription reporting metrics you should track to improve your free trial conversion rate.
Why Your Trial Conversion Rate Matters
Tracking your trial conversion rate is an important way to measure whether your trials are producing results. This metric is simply the percentage of free trial users that eventually become paying subscribers within a given period of time.
A low conversion rate suggests that customers are either dissatisfied with your product or aren't convinced that it's worth the amount you're charging for a subscription.
If you don't track trial conversions, how would you know whether you need to work to improve your free trial experience or product? It's also difficult to understand whether the changes you make lead to better or worse results without the data. That's why it's so important to monitor your trial conversion rate and other related metrics.
What Is a Good Free Trial Conversion Rate?
A good conversion rate is generally between 3 to 5% for most SaaS businesses when they're attracting customers through lead generation, content marketing, and other customer acquisition methods.
However, this percentage is much higher for free trial conversions. A common industry benchmark is above 20% because the potential customer is already further down the sales funnel. This can also vary dramatically depending on the business, industry, product, and other factors.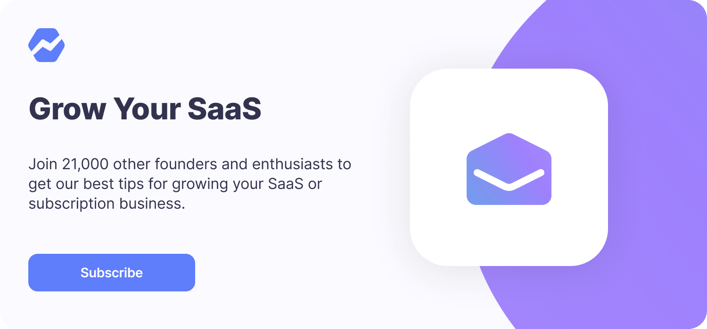 How to Improve Free Trial to Paid Conversions With Subscription Reporting
Subscription reporting is essential for improving your trial conversion rate because it delivers valuable insight into your free trial performance. Accurate reports can help you pinpoint issues that, when fixed, can dramatically improve your free trial to paid conversion rate.
A mistake to avoid when tracking SaaS metrics for subscription reporting is using too many metrics. If you want to improve your trial conversion rate, it's better to focus on a few highly relevant metrics. This way, you can dive deeper into what the data is trying to tell you.
3 Key Subscription Reporting Metrics to Track
Now that we've covered why subscription reporting is important for optimizing free trial conversions, let's take a closer look at three SaaS metrics you should track.
1. New MRR
New monthly recurring revenue (MRR) is additional recurring revenue that comes from new customers, which differs from expansion revenue from existing customers.
New MRR can be compared with customer acquisition costs to determine whether your sales and marketing efforts are effective. That's why many sales teams use MRR for goal setting. Comparing New MRR with trial conversions can also help you understand whether a lot of revenue is being generated from free trials.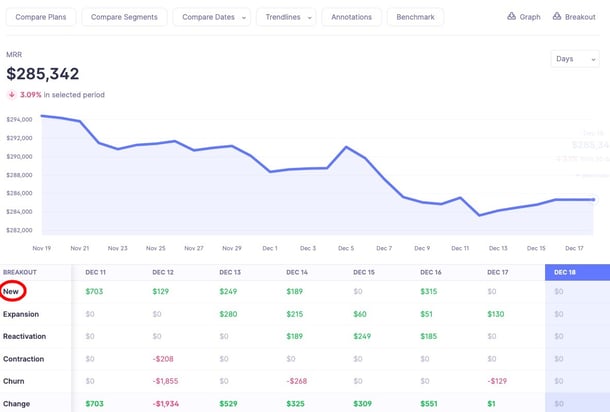 New MRR in Baremetrics
2. Average Trial Length
Average trial length is the average amount of time it takes a user to convert from a free trial to a paid subscription.
In general, a shorter average trial length is better because you're not giving away too much for free. But it's also important that your free trials are long enough for customers to recognize the value of your product.
By tracking average trial length, you can identify any trends or issues that are impacting trial conversions. This is especially useful for sales teams.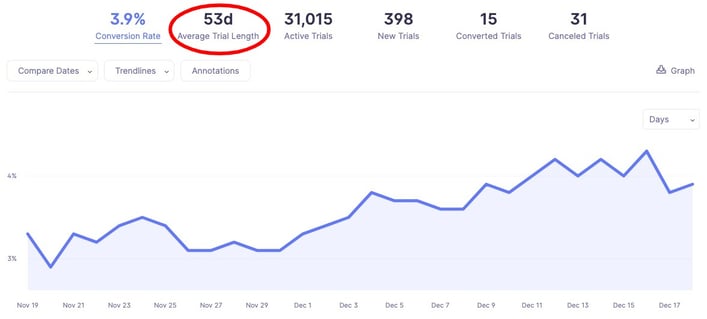 Average Trial Length in Baremetrics
3. New Subscriptions
New subscriptions is a metric that tracks the number of additional subscriptions in a certain period of time. By measuring the variance in new subscriptions over time, you can identify trends that impact trial conversions.
This could be external factors like a seasonal increase in customers during part of the year, or internal factors like hiring a new sales representative that increased your conversion rate.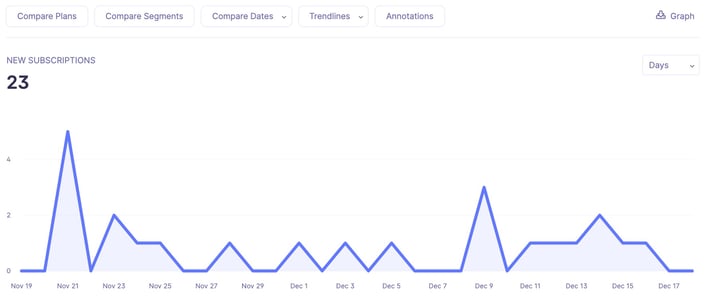 New Subscriptions in Baremetrics
Uncover Insights With a Subscription Reporting Tool
Every SaaS and subscription company should be using a subscription reporting tool to understand the health of their business. However, not every subscription reporting tool is created equal.
Here's what you should look for in a subscription analytics tool:
Easy to set up with just a few mouse clicks
Integrations with leading payment processors and other popular SaaS tools
Tracking capabilities for the most essential metrics specifically for SaaS businesses
Dunning and engagement features for acting on insights
Monitor Customer Trials With Trial Insights by Baremetrics
Baremetrics is a dunning, metrics, and engagement tool designed from the ground up for SaaS and subscription companies. As part of the 26 metrics the platform monitors, Baremetrics includes in-depth insights about customer trials.
Trial Insights helps you improve your trial conversion rate by monitoring exactly what's going on during free trials. Metrics include the average conversion rate, average trial length, active trials, new trials, and trial value. By grouping active trials based on their potential customer lifetime value (CLTV), your sales teams can prioritize their efforts on converting the trial users that will bring in the most revenue.
In addition, the trial metrics tie into other essential business KPIs that Baremetrics tracks, giving you a comprehensive SaaS dashboard. This is an important tool for monitoring the overall health and growth potential of your business.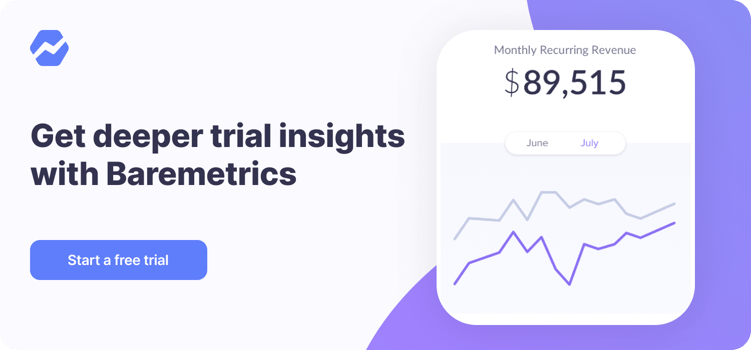 Case Study: Dollar Flight Club Achieves 76.5% Conversion Rate
With the help of Trial Insights, Dollar Flight Club achieved a 76.5% trial to paid conversion rate six months after adopting a free trial pricing model.
Dollar Flight Club found the wealth of vital data that Baremetrics provides to be critical for increasing its conversion rate. More specifically, the company was able to use insights about what customers were doing in their trials and how they were converting to optimize their free trial pricing model.
Start Your Free Trial of Baremetrics Today
Free trials can be a great strategy for SaaS and subscription businesses to attract new customers, but it's important to monitor and optimize the trial experience to achieve strong results. This requires tracking free trial conversions as well as other metrics that impact trial performance. Baremetrics can help! Sign up for a free trial today.