Subscription reporting is the key to growing a SaaS business, but how do you know which analytics platform is right for you? Baremetrics, ChartMogul, and SaaSOptics are three popular solutions to consider.
Read on to learn more about the differences between these platforms in terms of capabilities, ease of use, UI, customer support, and price. This will help you decide which tool fits the unique needs of your SaaS or subscription business.
About Baremetrics
Baremetrics is a metrics, engagement, and dunning platform built from the ground up for SaaS and subscription companies. The platform's Smart Dashboards provide a simple and intuitive view of your metrics to drive smarter business decisions.
Besides tracking SaaS metrics, Baremetrics also provides automated capabilities for improving revenue recovery and reducing churn. By giving you the dunning and customer engagement tools you need to take action, you can adopt a data-driven approach to scale your SaaS business.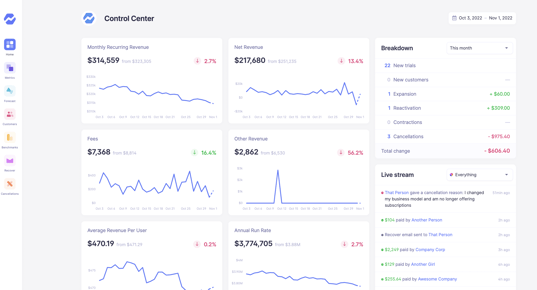 About ChartMogul
ChartMogul is a SaaS analytics tool for measuring, understanding, and growing subscription revenue. The platform is primarily focused on providing accurate metrics that can be viewed using data analysis tools and charts.
While ChartMogul has a lot of great visualization features, it doesn't have as many features for taking action on the data when compared to a platform like Baremetrics. That means SaaS companies will likely need to pair ChartMogul with another platform for automated dunning and revenue recovery.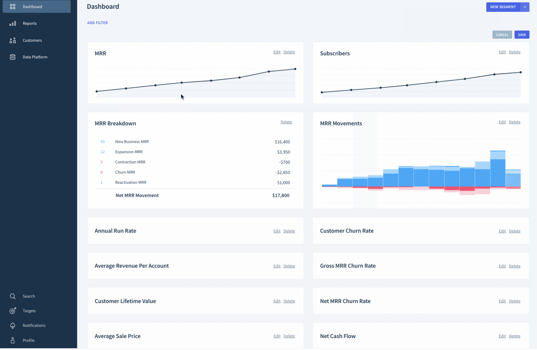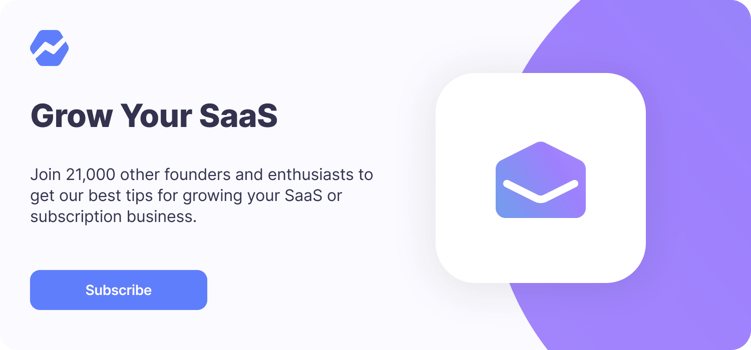 About SaaSOptics
SaaSOptics is a platform for subscription management, revenue recognition, expense tracking, and SaaS metrics. The platform focuses on B2B SaaS companies that require a wide range of financial reporting capabilities.
However, with so many options comes complexity. In contrast, Baremetrics focuses on the most essential metrics and offers automated features. The result is a much simpler learning curve that reduces the time required to start generating insights.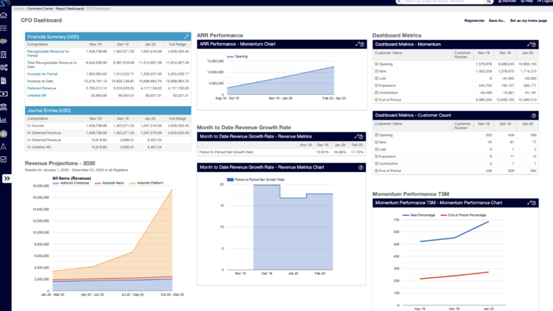 Compared to ChartMogul and SaaSOptics, Baremetrics offers the most comprehensive set of features essential to growing a subscription business, all in one tool.
Baremetrics

ChartMogul

SaaSOptics

Focus

All-in-one growth toolkit for subscription businesses: metrics, analytics, insights, dunning (for revenue recovery), and advanced financial forecasting

Subscription Analytics

Financial operations for B2B SaaS companies

Trial length

14 days

14 days

No trial offered

Dunning solutions for revenue recovery

Comprehensive automated dunning solution (Recover)

No automated dunning capabilities

Collections and dunning features are optional add-ons.

Churn Insights

Cancellation Insights feature shows you the reasons why customer cancel and the revenue lost to each reason

Churn recognition as it occurs or at the end of the month

No feature for collecting insights about why people churn.

Reporting

Smart Dashboards with powerful drag and drop capabilitiesInspiring and intuitive UX and UI

Visualization options for charts and dashboards (only higher tier plans)

Financial reporting, metrics, and analytics.

Integrations and data import

Direct integrations with Stripe, Braintree, Recurly, App Store Connect, Google Play, Shopify Partners, and Chargebee.

Data import from other sources possible via the Baremetrics API or third-party connections.

Direct integrations with Stripe, Braintree, Recurly, App Store Connect, PayPal, Chargebee, GoCardless, Google Play.

Data import from other sources are possible via their Import API or through their partner SaaSync.

Integrates with customer relationship management (CRM) platforms, accounting software, payment processors, and more. Many integrations are an add-on.

API is available as an optional add-on.

Data segmentation

Segment by customizable attributes enriched by Clearbit

Segment by attributes, tags, and filters

Data slicing and dicing available for some reports.

Forecasting

Advanced forecasting features automate your financial model, scenario planning, and forecasting using your accounting data and SaaS metrics.

Forecasting capabilities are limited to Committed MRR forecasting

Forecasting is not offered.

Support

Customer support available through live chat and emailWe guarantee a response within five minutes during operating hours (M-F, 9am-5pm CST)Our team also provides account reviews and onboarding of all tools at no additional charge

Support included for all price tiers

Support available via email or within the app.
Data Sources and Integrations
Baremetrics
Baremetrics provides out-of-the-box integrations with popular services.
Leading integrations include Recurly, Stripe, Shopify, Chargebee, and many others.
Baremetrics can integrate with other services using the Analytics API.
Baremetrics integrates with Slack to provide important updates about business metrics.
ChartMogul
ChartMogul offers integrations with some platforms and can import data via API / CSV.
Popular integrations include Stripe Recurly, Chargebee, and a few others.
The ChartMogul API can be used to build custom integrations from scratch.
SaaSOptics
Integrations are available for customer relationship management (CRM) platforms, accounting software, payment processors, and more as add-ons.
API is another add-on available.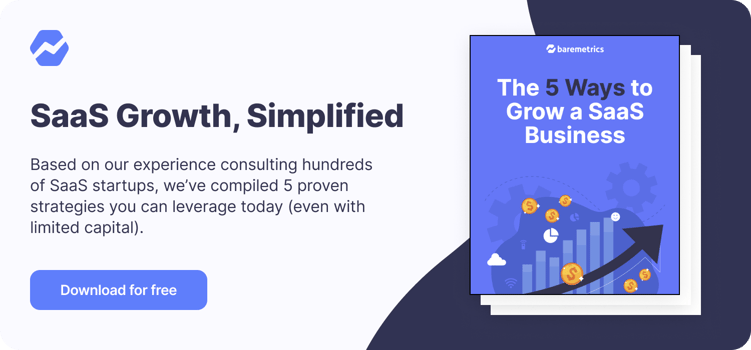 Custom Reporting and Data Augmentation
Baremetrics
ChartMogul
ChartMogul offers some data editing and data enrichment capabilities.
Data can be segmented using attributes, tags, and filters.
There are various visualization options to create unique charts (with higher-tier plans).
SaaSOptics
SaaSOptics tracks hundreds of B2B SaaS metrics.
Reports can be pulled on revenue, invoicing, accounts receivable, and more.
Cohort Reports can be sliced and diced in many different ways.
Pricing
Baremetrics
14 day free trial
Pricing is based on MRR
Core features toolkit starts at $129/month
Core features plus automated dunning/revenue recovery (Recover) starts at $198/month
Core features plus automated churn insights (Cancellation Insights) starts at $258/month
Core features + automated dunning + cancellation insights starts at $327/month
Advanced forecasting is not priced based on MRR, is priced at $1000 per month
ChartMogul
14-day free trial
Free for businesses with less than $10k/month MRR
$100/month up to $10k/month, plus $25/month for each additional $10k of monthly MRR
$15k/year for businesses with over $6 million annual run rate
SaaSOptics
Pricing options for small startups to large companies with $100M+ in revenue
Collection and dunning features are an optional add-on
Many different integrations are optional add-ons as well
Which Is Right for You: Baremetrics, ChartMogul, or SaaSOptics?
While all three platforms are built for SaaS and subscription businesses, each one has different strengths and weaknesses depending on what you're looking for.
ChartMogul offers data analytics and segmentation, but it doesn't provide many features for taking action on these insights. SaaSOptics has comprehensive features for B2B SaaS companies and might be a bit complicated for small to mid-sized companies.
Baremetrics is an easy-to-use analytics platform that tracks all of the most essential metrics for SaaS and subscription businesses. The platform also goes beyond subscription analytics by providing automated tools for dunning and churn insights, as well as advanced financial forecasting and scenario planning.
Sign up for a free trial to discover how Baremetrics can improve your SaaS business today.