Acquiring customers for SaaS is a completely different ball game altogether than, say, for the traditional business models (think: eCommerce, for instance).
In the SaaS industry, acquiring new leads through short-term marketing promotions will not cut it–which works as a killer strategy for the eCommerce business model. So what works (and doesn't work) as a SaaS acquisition strategy?
In this article, you'll learn 5 keys to building a purpose driven acquisition strategy for your SaaS and how to avoid common mistakes along the way.
Let's go!
SaaS Customer Acquisition: Getting the basic right
SaaS companies need to first focus on building a relationship with a customer before getting them to sign up for the product.
Other business models like eCommerce can focus on getting customers to make a purchase and then focus on building a deeper relationship with the user.
Needless to say, the SaaS sales cycle is a long-drawn-out process–with the length of an average SaaS sales cycle being around 84 days as per research. Factors such as high product cost, privacy issues, complicated features, and innumerable product options are to blame for the long sales cycle.
Speaking with respect to the SaaS customer acquisition costs industry benchmark, here's what the data tells us:
Ideal LTV:CAC Ratio: Growing SaaS businesses should aim for a ratio of 3:1 or higher, considering that a higher ratio translates to greater sales and better marketing ROI. Having said that, if your ratio is too high, then chances of your under-spending and restricting growth might skyrocket: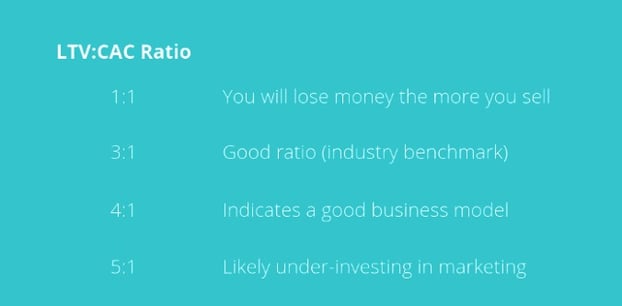 Source: Medium – Corl
According to FirstPage Sage's report, average customer acquisition cost ranges from $500 to $2000: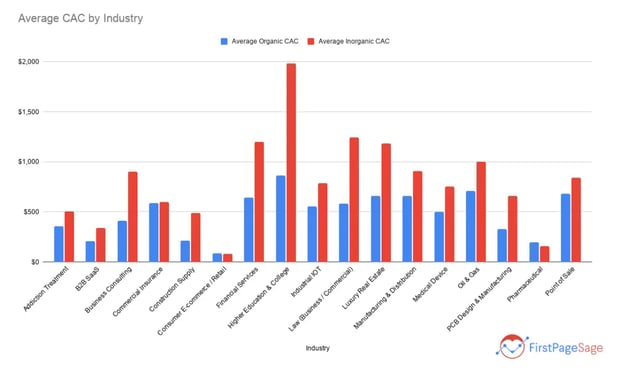 Source: FirstPageSage
If you want to accurately evaluate the ROI of your marketing campaign, you need to start tracking your customer acquisition cost (CAC) and the Lifetime Value of your Customer (LTV).
This data can prove to be invaluable in understanding which channels to invest in, as well as analyze your marketing department's core strengths and weaknesses (by comparing your CAC with the industry benchmarks).
Now that you have a good understanding of why your customer acquisition costs should be the central focus of your SaaS marketing strategy, let's look at how to build a killer customer acquisition strategy for your SaaS.
How to Build a Purpose-driven SaaS Customer Acquisition Strategy
Before diving into creating your SaaS customer acquisition strategy, it's helpful to understand what other SaaS Marketers think about customer acquisition strategy:
Tatev Hackobian, Marketing Expert at Krisp, defines customer acquisition Strategy as a viable approach of understanding new customer's preferences and behavior and utilizing all the marketing channels to raise brand awareness and reach them to create an influential connection with them.
Now that you know what other SaaS marketers mean when they say customer acquisition strategy, let's look at what it takes to build a great SaaS customer acquisition strategy.
1. Have a well-optimized website
Think of your brand's website as the first impression you'll be creating among your leads and prospects–it needs to be impressive, right?
For instance, take a look at Proof's website, whose homepage doubles up as a live demo for their products on offer: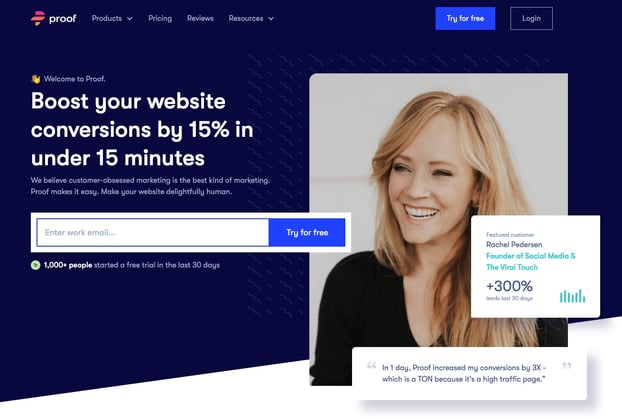 Source: Proof
The secret sauce to Proof's success lies in its ability to demonstrate social proof (by way of using video-powered customer testimonials and the use of trusted brand names):
Source: Proof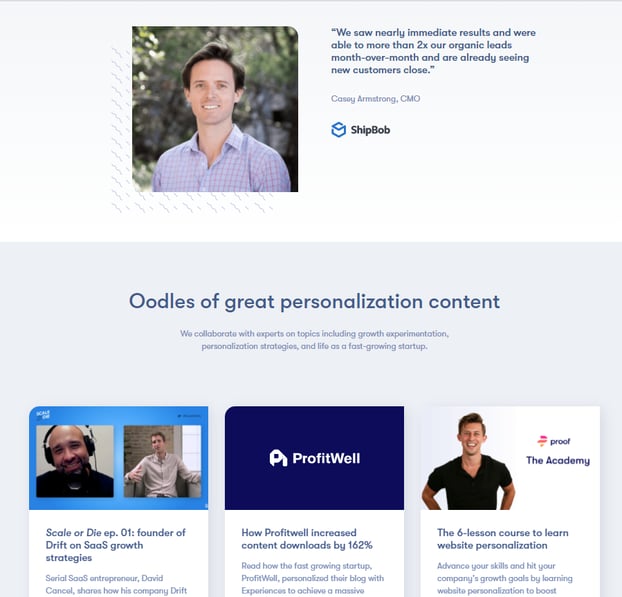 Source: Proof
To top it off, the brand delivers a hyper-personalized user experience in real-time (the homepage automatically adapts to the user's time zone and showcases strategically-placed CTAs).
Ensuring that your homepage acts as a brochure/demo of your product can enable an informative, user-friendly, and engaging browsing experience.
2. Keep your customer front-and-center of everything that you do
If you want to gain the lion's share of the market, you should keep the customers as the frontrunners of your business. It is not about demonstrating the benefits of your products, it is about demonstrating the value that your customers will gain while using your product.
There are numerous ways to do this. Start by improving on the customer experience and integrating the live chat software on your website.
Customers and prospects can instantly get in touch with an agent in real-time and get their queries addressed within seconds. To save the CX agent's valuable time, many customer support software allows integrating a knowledge base within the chat tool–including useful answers to repetitive user questions that customers can immediately (and effectively) get answers to:
Source: Acquire.io
At every juncture of the customer lifecycle, ask yourself these two questions:
How are we helping users to achieve their goals?
How are we addressing their pain points, gaining user trust and confidence in our offering?
You can make use of robust tools such as live chat to level up your customer experience and provide a powerful CX that's marked by speed, accuracy, and greater user satisfaction.
3. Showcase success stories
This is one of the most tried-and-tested strategies that works wonders. In fact, according to research by Broadly, posting positive reviews can drive customer spending by 31%.
Luckily, you can showcase customer success stories in a number of ways such as:
By inserting the brand logos of well-established companies that you have partnered with as a way of showcasing social proof, as seen on our homepage:

Creating a case studies section that clearly explains how your product/solution has helped customers and showcasing updated client testimonials in the form of quotes/videos, as Heap demonstrates below: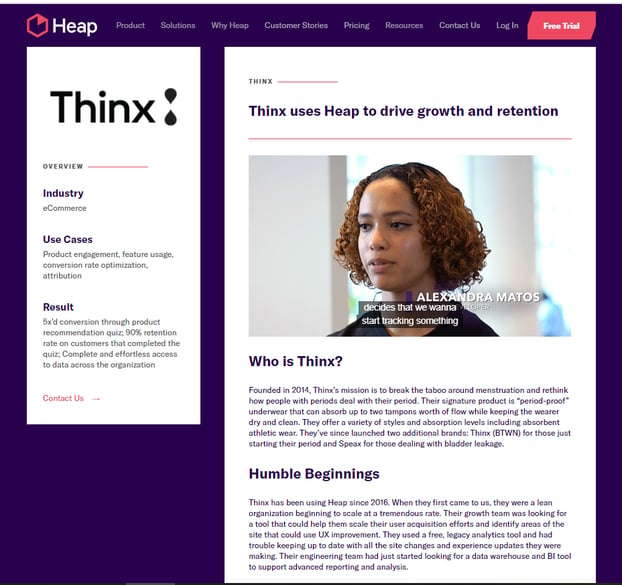 Source: Heap.io
Demonstrating social proof on your website/app can be the boost/nudge that your prospects might need when they're at the point of converting. So use your website as a vehicle to show (not tell) your users how your brand is making their lives easier, one testimonial at a time.
4. Optimize the pricing page
One of the biggest mistakes SaaS companies make is not having a complete picture of the pricing plans on the website.
To save your customer's time and throw light on your brand's user-centric values, create a well-optimized pricing page as the following brands demonstrate below:
HubSpot pricing page focuses on a strategically-crafted value metric (think: the value that the customer pays for, which could be based on per user, per GB, etc.):

Source: priceintelligently.com
Insightly's pricing page targets smaller customers by using "per user" as the primary value metric: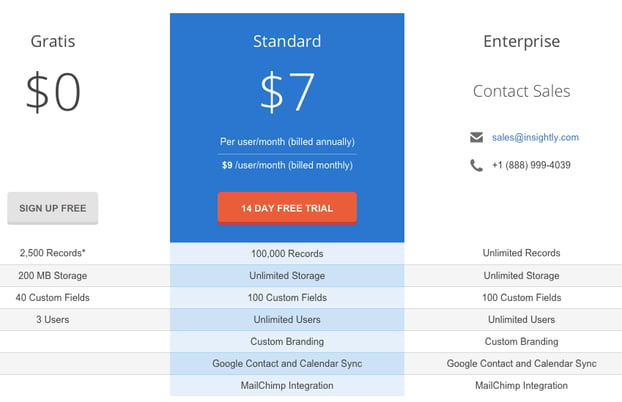 Source: priceintelligently.com
This strategy becomes useful when you want your power users, currently active on free plans, to make a purchase decision as they are deriving value from the product.
If there are way too many pricing plans to showcase, follow the UserVoice example, which provides a generalized pricing page and differentiates the pricing between different tiers, and finally provides the user with the option to explore more with a "view full feature list" button:
Source: priceintelligently.com
You can also try experimenting with dynamic pricing page as Sender does on their website: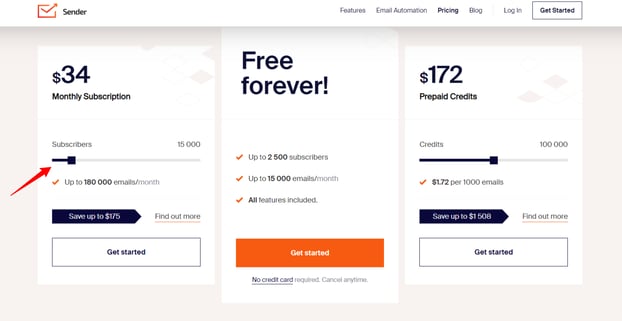 Source: sender.net
Optimizing your pricing page allows your brand to honestly communicate your pricing details–a primary interest-point for most customers–and prevents unpleasant surprises by way of add-on features, etc., later on.
You can also include discount-related details within the annual subscription plans or showcase pricing plans based on specific user personas/smaller companies to accelerate the sales cycle.
5. Create valuable content
Truth be told, promotional content should make up for the smallest chunk of your content marketing strategy and SEO best-practices. As a thumb rule, SaaS companies should laser-focus on driving product-led content.
If you need inspiration, take a look at Ahrefs' example, an SEO product:
The brand's Blog section comprises of closely product-related blog posts which are educative and value-driven: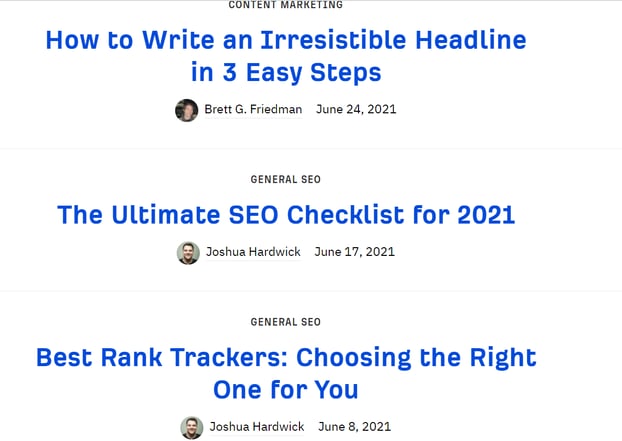 Source: ahrefs
More importantly, the brand highlights product-related videos, making the content as diverse and interesting-to-read as possible: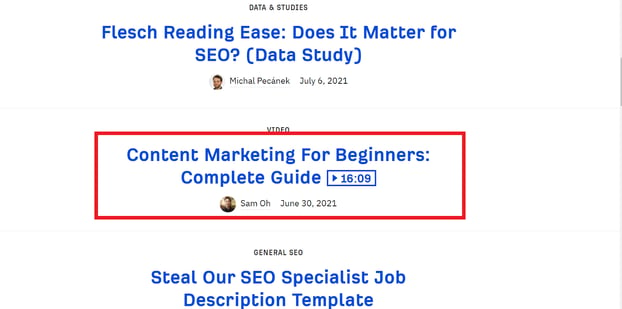 Source: ahrefs
When curating content, do your research to understand if there's a search volume for search queries that your product can help address. The brand refers to this as the Business Potential Score.
If the answer is yes, then you can avoid driving content based on the top, middle, and bottom funnels. Instead, produce product-centric content that demonstrates a true-to-life business potential. This includes relevant keywords and topics, and subtly pitches the product in question as an irreplaceable solution to your customer's pain point: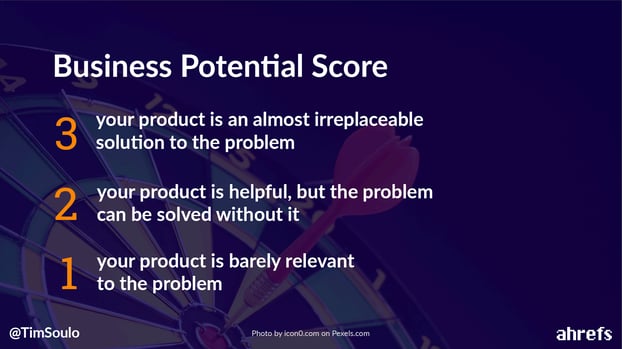 Source: supermetrics.com
Ahrefs effectively and subtly helps the audience to understand how they can use their tools to engage in SEO. The beauty lies in the content being as non-promotional, indirect, and product-centric to the extent possible. Plus, the use of a variety of value-driven and clearly-demarcated content categories (think: video, case studies, general SEO blogs, etc.) makes it well worth the read.
Before we jump into the final section of this blog, let's hear from a marketer what a marketer needs to keep in mind while drafting customer acquisition strategy for SAAS businesses:
Alex Souchoroukof, marketing copywriter at Moosend, explains that as a marketer, to be successful, you must first get to know the people buying from you. You need to know who they are, what inspires them, and where they have difficulties. Only then can you create an acquisition plan.
My best advice is to segment your target clients, then create individual conversion funnels for each. This entails conducting extensive research, getting to know your customers, developing customer profiles, and then targeting each category differently.
You can give a more relevant, personalized experience to SaaS leads and convert more customers by having educational information in various formats (interactive content, emails, blog posts, videos, etc.) for leads at each stage of your funnel.
You can't have a wide consumer acquisition plan; instead, you'll need to get more specific. It's a lot easier to tailor your strategy for each consumer category once you know who you're aiming for.
Before concluding this article, let's look at the common mistakes you should avoid like the plague when creating your SaaS customer acquisition strategy.
Build a SaaS Customer Acquisition Strategy With Baremetrics
Get deep insights into MRR, churn, LTV and more to grow your business
How to avoid common mistakes while implementing your SaaS customer acquisition strategy?
1. Keep track of your metrics: If you are not tracking the efficacy of your customer acquisition strategy, you'll never know what's working and what's not. So make a list of the top3 or top-5 metrics that you should be monitoring on a regular basis to make changes and pivot your strategy accordingly.
2. Focus on highlighting the solutions, rather than focusing on product promotions: Nothing annoys customers more than brands who continue to blow trumpets of their achievements. Your customers want to see the tangible improvements they will be able to leverage after using your product. Do so by ensuring that your CAC strategy focuses on driving:
Powerful and engaging stories around your team and your brand's core values to build a strong connect with your customers
Customer success stories, especially when a lead contacts you or signs up for a free trial to gain their trust and confidence
Content that clearly highlights how your offering can help address the prospect's biggest pain points and empower them to achieve their goals
3. Let some customers churn: If you notice that there are some customers who are churning despite your best efforts, let them churn. That said, make sure to gather feedback and ask them why they didn't like the offering and analyze their responses/data.
You can use these actionable insights to further improve the customer experience. Make sure to gather real-time feedback from both your happy and unhappy users.
The Bottom Line
There's no 'one-size-fits-all' approach that you can take to create a customer acquisition strategy that delivers on all accounts.
Adding up to this, Jeffrey Kagan, co-founder of Nifty says; Nifty has always differentiated itself in acquiring customers in the competitive project management industry by understanding our ideal customer profile and targeting them – leading to a repeatable flywheel of new business and customers.
Remember, at the end of the day, every brand's customer acquisition journey will look different–depending on their product, user base, brand's strengths, etc. Be sure to leverage the tips and hacks outlined above, and make sure to put in your own unique flavor to keep your user base loyal and happy throughout the sales cycle.
To get the most out of your CAC strategy and monitor key metrics, allow Baremetrics to do the heavy lifting. Baremetrics is a business metrics monitoring tool that acts as a dashboard for your business. You can see MRR, ARR, LTV, total customers, and more directly in your crystal-clear dashboard.
Sign up for a free trial, and start monitoring your key metrics today.