Stripe is a powerful payment processor, but when it comes to metrics and insights, it's limited for SaaS and subscription businesses. In other words, using Stripe by itself won't provide you with enough insight in order to effectively grow a subscription-based business.
Baremetrics is an analytics and insights solution that was purpose-built for growth-focused SaaS and subscription companies. This makes it a great compliment to Stripe's payment processing capabilities so that you can take your business to the next level, faster.
In this post, we'll discuss five key benefits of integrating Stripe with Baremetrics and how you can easily do so using our integration.
Why integrate Stripe with Baremetrics?
We've put together five reasons why you should consider using Baremetrics on top of your Stripe account.
1. Automatically track metrics in a way that makes sense for subscription businesses
First of all, the way Stripe calculates metrics isn't always ideal for businesses with a subscription model.
For example, Stripe uses a plan's price rather than the actual billed price when calculating metrics like monthly recurring revenue (MRR). Baremetrics, on the other hand, uses invoices to determine what customers are actually paying you, therefore giving a more accurate figure.
Here's what this might look like in real-life. Let's say a customer signs up with 50% off for 6 months on a $100 month plan. Stripe will calculate your metrics using only the price of the plan ($100 MRR) whereas Baremetrics will include the coupon ($50 MRR).
When making business decisions, it's generally recommended to be conservative with your numbers or at least make judgements based on what customers are actually paying you.
2. Dig into your metrics for more insight into your business performance
Even if you don't have a preference for how your metrics are calculated, if you want to take action on them, you should consider upgrading to a solution intentionally built for that purpose.
That's where Baremetrics comes in handy. Baremetrics allows you to drill down into your data to answer complex questions and make more informed business decisions.
The key to doing this lies in Baremetrics' powerful segmentation tools– a feature that's unavailable with Stripe analytics. With the increased level of granularity that Baremetrics provides, you can better understand trends for specific regions, plans, or other customer segments.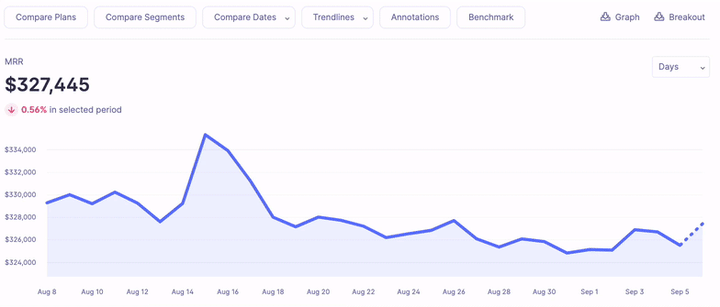 Segment over 25 subscription metrics by customer cohorts like plan type, LTV, or customizable date ranges.
Here's a real-life example of segmentation.
With Baremetrics, you can learn which types of customers are churning at a greater rate than others by segmenting your customer or revenue churn rate by company size.
Our customer Team Password, a password management tool, found that the churn rate for smaller companies (companies with MRR between $10K and $25K) was lower than for enterprise companies.
When Team Password dug into why that was, they learned that as their customers grew in size, they developed a need for "enterprise" security features that Team Password didn't offer. They had two options: spend resources building these enterprise-specific features or focus on smaller customers who were happy with the product exactly how it was.
In the end, they decided to focus on keeping their smaller customers happy. Even though they lost some larger customers, this ultimately won them more of their ideal customers.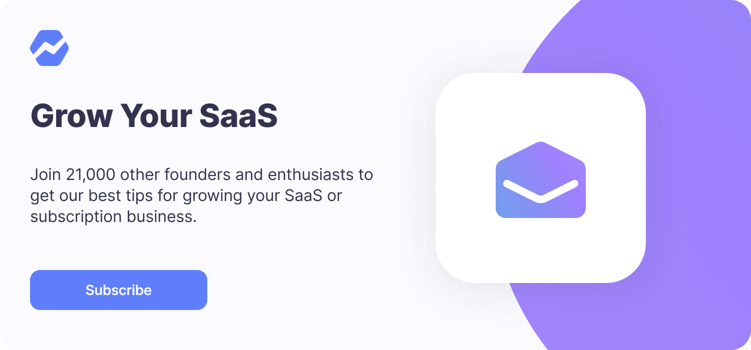 3. Build customizable dashboards
Stripe provides analytics dashboards that help you visualize your metrics, but you'll need advanced technical skill to customize them for more complex use cases. This all becomes extra tricky if your company has a lot of different payment plans, coupons, or payment providers.
As an example, consider what it takes to pull the billing history of Stripe customers. You'd need to add some code to the Stripe List Charge API, which is tedious and unnecessarily complicated for most people. This information (and much more) is readily available within the Baremetrics dashboard.
Once it's connected to Stripe, Baremetrics automatically pulls information about your customers and their past activity from the payment processor and creates a custom analytics dashboard for Stripe. This allows you to view insights that are tailored to your specific business requirements without any complicated technical skills.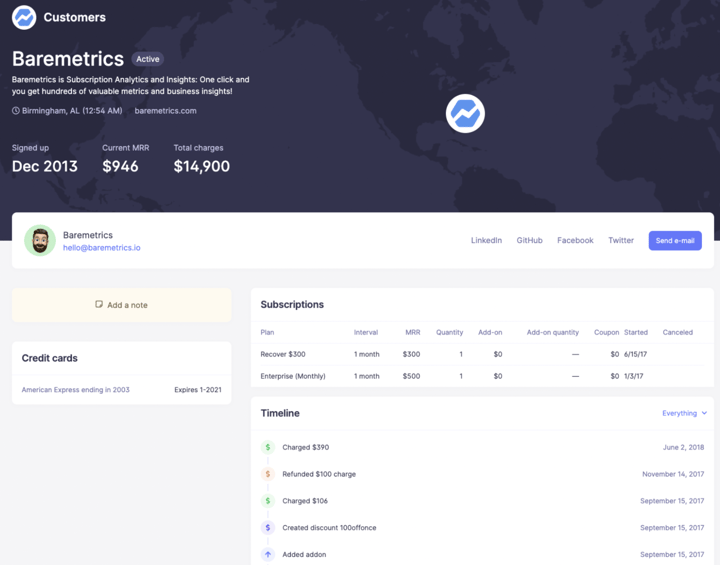 You can also build your own views using drag and drop tools. By having full control over the metrics and layouts of your dashboards, you'll be able to easily review the data most important to your business whenever you want. For example, seeing metrics from customers within a specific region.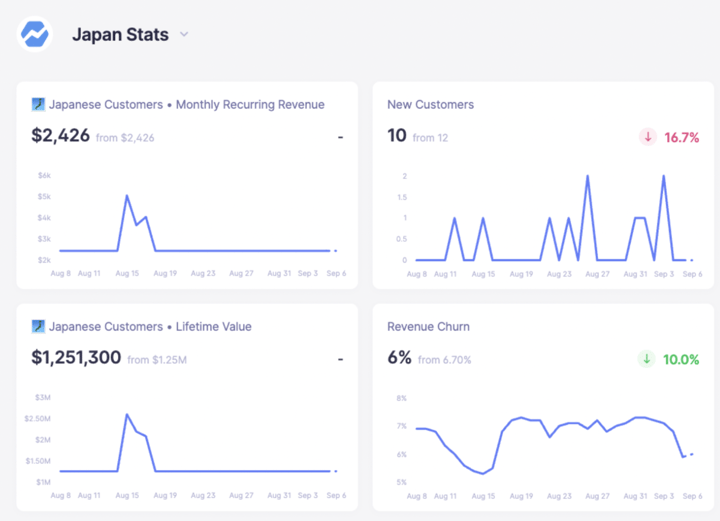 4. Reduce involuntary churn
While Stripe offers some revenue recovery capabilities, it's limited when compared to a more comprehensive dunning solution. Here's why: Stripe's "Smart Retries" feature doesn't offer much customization, preventing you from sending highly personalized and engaging dunning emails that effectively recover revenue.
This is where Recover by Baremetrics wins: as an add-on tool to your Baremetrics subscription, it helps you automatically resolve failed customer payments to recover lost revenue while also delivering a positive customer experience.
It works by automatically sending custom dunning email campaigns, in-app notifications, and paywalls, you can work with your customers to ensure the subscription payment process is as smooth as possible.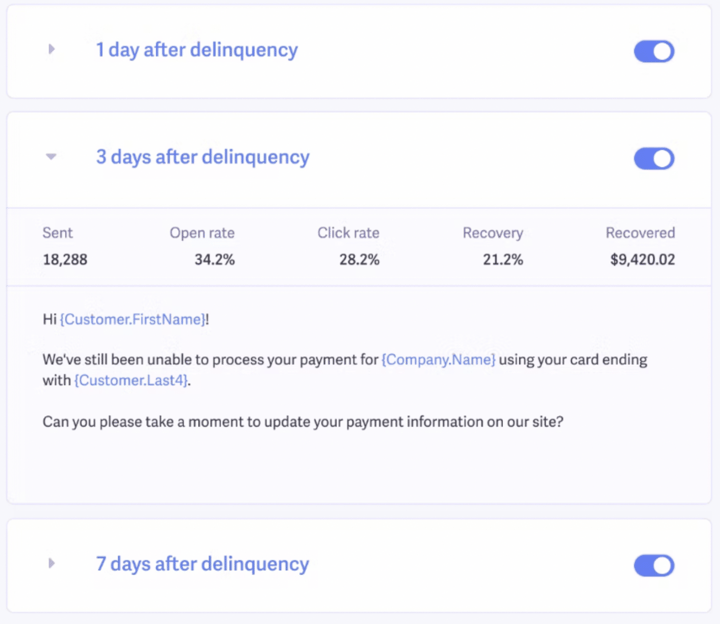 Customizable emails sent by Recover get higher open and click rates than non-customized emails.
We've seen SaaS and subscription businesses recover thousands of dollars in lost revenue after a 5 minute, one-time setup with Recover.
5. Maximize customer retention with automation
Stripe is a payment processor that works with many types of online businesses, not just SaaS and subscription ones. When it comes to processing payments, a company's business model doesn't matter so much, but SaaS and subscription companies should definitely seek tools that help them analyze free trials and cancellation activity- two essential factors for customer retention in SaaS.
That's another reason why Stripe users rely on Baremetrics. Trial Insights provides in-depth data about how your free trials are progressing. With insights like conversion rate, average trial length, converted trials and more (see below), you can keep a pulse on trends surrounding your free trials, and where you could be improving.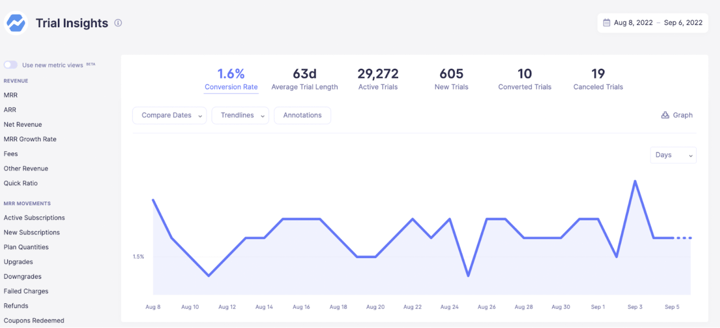 Similarly, with Cancellation Insights, you can collect invaluable feedback about why customers are canceling their subscription and then automatically send personalized emails to encourage them to return.
You can follow up with discounts, schedule sales calls, or implement other tactics for getting customers to reactivate their subscriptions. This is a simple way for you to maximize your customer retention in a scalable way.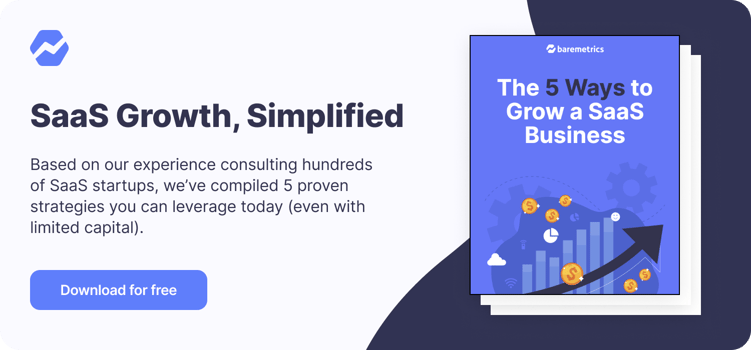 6. Get personal support for your account
Stripe is first and foremost a payment processor, not an analytics and insights solution. That means its customer support is focused on resolving issues with your customers paying you.
Baremetrics offers personalized support for your company's unique growth-related questions and needs.. Since Baremetrics is built specifically for SaaS and subscription businesses, our Customer Success team has both industry and Stripe expertise to help you make the most of your Baremetrics integration with Stripe.
How to integrate Stripe with Baremetrics
Baremetrics can bring your raw Stripe data to life in a way that transforms your company into a data-driven business. You'll have the data visualizations and insights you need to make better decisions to grow your subscription-based business.
Connecting Stripe with Baremetrics is easy using our pre-built integration. Simply link your Stripe account and Baremetrics will import your data and then calculate your metrics. Then you'll be able to analyze your business performance in real-time. Baremetrics tracks 26 key metrics for SaaS and subscription companies, including MRR, lifetime value, failed charges, churn, and much more.
Besides in-depth analytics for Stripe data, Baremetrics offers dunning and customer engagement tools to optimize your business operations. You'll be able to recover lost revenue due to failed payments, reduce customer churn, and engage your customers in a way that builds stronger relationships. These capabilities are a game changer for SaaS and subscription businesses.
Sign up for a free trial to discover how Baremetrics can enhance your Stripe analytics today.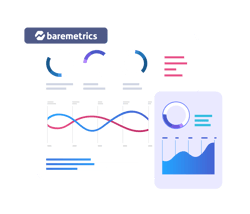 All the data your SaaS business needs
Get deep insights into your company's MRR, churn, and other vital metrics for your SaaS business.
Try Baremetrics Free