One of the hardest jobs of any CFO, controller, or senior financial analyst is to look towards the future and make predictions about the business. It's also one of their most important functions because every high-level decision requires some understanding about what will happen in the future.
While financial modeling can be done by hand in Excel, the results won't be as accurate or timely. That's why most companies invest heavily in financial projection software.
But, what do you need in your financial projection software? Which software package is best? What kind of investment does top-rate financial projection software entail? These are just some of the questions we'll answer in this article.
What is financial forecasting?
Financial forecasting is the art of predicting the future based on current trends. A skilled analyst will select a financial model that matches the data available and make inferences about the future based on its projections.
The problem with looking into the future is that it is uncertain. We don't have access to a crystal ball, which means we need to make assumptions. A seasoned manager is going to make better assumptions than most, but it is still never going to line up exactly with reality.
This is where scenario planning comes in handy. Scenario planning is a way to remove uncertainty by building multiple visions of the future and then modeling all of them. If done correctly, you'll be able to watch the forecast over the coming weeks and match the predictions to what is actually happening and figure out which scenario is the most accurate.
For example, if your monthly recurring revenue (MRR) has been steadily rising month on month, you might make a baseline model where your MRR continues to rise by 5% over the next year. Then, you'll probably want to build a second conservative scenario with flat MRR over the next year to see how your company will fare without growth. Finally, you should include a more aggressive scenario with a 10% increase in MRR so you have a plan in place if your company outperforms expectations.
This is where financial projection software really comes in handy. If it takes you 50 hours to build a single model, then you can have it done next week. However, if you have five key variables and three options for each of them, then you'll need (3 × 3 × 3 × 3 × 3 =) 12,150 hours to finish all of the models. Needless to say, you can't spend six years running your annual financial models!
As mentioned above, the best models are accurate and timely. You need good information to make decisions about the future, but you also need information at the right time to make those decisions.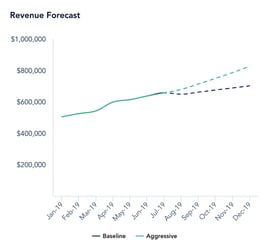 Use Forecast+ to forecast your future
Get automated profit and loss, cash flow statements, and balance sheets with Baremetrics Forecast+.
What is financial forecasting software?
Financial projection software helps businesses plan their resources in support of their future activities. It helps companies estimate their future revenue and expenses. Good software can help every department of a company.
For instance, a manager or top-level executive might use financial projection software for departmental budgets and financial forecasts. An accountant can use these tools to consolidate budgets across departments and draw up income and cash flow statements for the year ahead. The HR department can even use it to build a hiring plan that won't break the budget.
On its face, financial projection software may seem like a generic solution—don't all accounting tools offer a budgeting feature? While financial forecasting is one of the core functions of accountancy, it is often the forgotten one by accounting software. That's just one of the reasons you'll need a separate financial projection software solution.
What you should look for in financial projection software
What you need in your financial projection software will depend on many factors, from the size and complexity of your business to how much influence macroeconomics has on the demand for your products. However, here is a list of some things you might want to have in your product:
Pull data directly from your accounting software (e.g., QuickBooks)

Able to input data directly or upload from data files (e.g., xlsx and clv files)

Automatic scenario and projection options

Manual scenario and projection options

Transparent projection functions that show you which data is being used where

Pulls information from the income statement and balance sheet to automatically create cash flow projections

Added features to monitor changes in revenue and expenses (e.g., revenue recognition and hiring plans)

High-quality data visualizations including graphics and charts to make trends clearer
What should financial projection software do for you?
The five financial projection software packages below meet most or all of the above requirements. That's important because a robust software package can help you do the following:
Fine-tune your business plan

Produce various budget templates

Maintain multiple budget versions

Keep track of historical budgets to help with future forecasting

Compare forecasted revenue and expenses with actual figures

Combine budgets across departments for company-wide cash flow forecasting

Plan for what ifs in the event of budgetary changes

Keep watch over budgeting process performance
Best Financial Projection Software for 2023
Here are five of the best financial projection software packages available today.
1. Baremetrics Forecast+
Forecast+ is a full-service financial modeling software solution. It offers all of the features you'll need to project changes in your revenue and expenses over time. Forecast+ offers fully automated "autopilot" projections as well as options to create your own scenarios. It connects to your accounting software to automatically load and interpret data. It also provides all the ancillary functions to improve your main projections, such as a hiring plan model.
Forecast+ starts at $108 per month.
Take a look at the Forecast+ dashboard: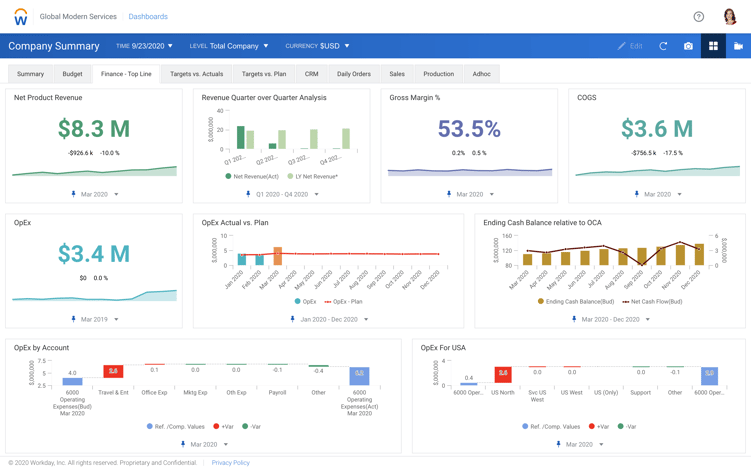 Dashboard of Forecast+
2. Prophix
Business is always evolving, and your processes and systems should, too. You can achieve your company's goals, improve profits, and minimize risks by automating various tasks with Prophix, such as budgeting, planning, consolidating, and reporting. Whether you choose cloud-based services or onsite, this software supports you with a flexible platform that scales with you.
Prophix does not have transparent pricing. It has an average rating of 4.5/5 across 67 reviews on Capterra. The most common positive is that they are constantly upgrading the platform and provide a roadmap of features to come. The negatives are that the data visualizations can be below standard and the platform is confusing for non-finance people.
Take a look at Prophix's dashboard: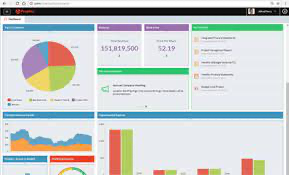 Prophix's dashboard
3. Jirav
This financial projection software offers an all-in-one solution for budgets, forecasts, reports, and more. Jirav is fast and easy to implement, and its intuitive interface meets the needs of any sized business up to 500 employees. Integrations with accounting solutions you already use for things like your balance sheet, such as QuickBooks Online, Xero, or NetSuite, means you'll see the value from the moment you set it up.
Jirav starts at $250/month, but many of their best features will require the $850/month pricing tier.
Jirav has a 4.8/5 on Capterra with 12 reviews. Jirav's customer solutions team gets high praise, but their data visualizations tend to be insufficient.
Take a look at Jirav's dashboard: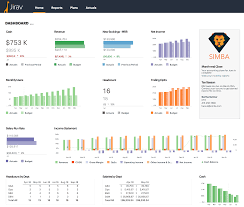 Jirav's dashboard
4. Adaptive Planning
Take your cash flow statements, budgets, plans, financial reports, and models to a whole new level with this financial planning solution. The familiar feel of Adaptive Planning will help you streamline your processes and offer shareholders financial statements with strategic insights. You can configure Adaptive Planning to your specific requirements, create customized calculations, and adapt it to your evolving needs as you grow.
Adaptive planning does not have transparent pricing, however Capterra reports that it starts at $15,000 per user. Adaptive Planning has a 4.5/5 across 173 reviews on Capterra. The reviews often mention the powerful interface and that it is constantly adding new features. Some users find it difficult to do the initial setup and data important.
Take a look at Adaptive Planning's dashboard: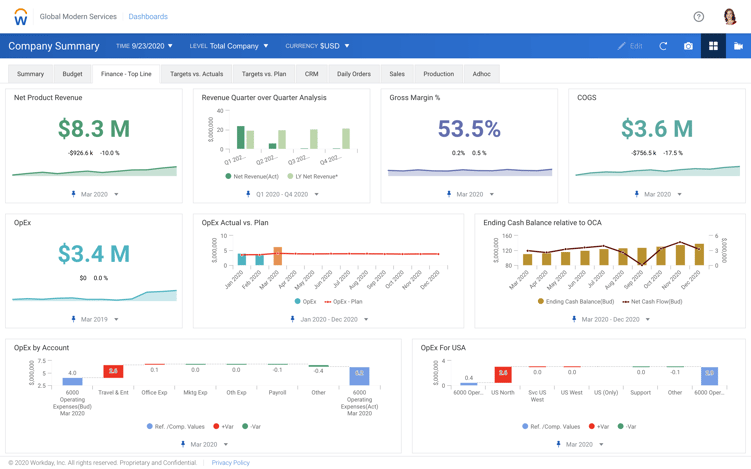 Adaptive Planning's dashboard
5. Vena
Wouldn't it be nice if you could connect departments and your existing systems, all while using data to plan your company finances with instant insights into cash flow? With Vena, you can. This financial projection software combines incredible integration and planning ability with a familiar, Excel-like interface, allowing departments to cooperate more effectively toward shared company goals on a platform that has no learning curve. It's easy to use, flexible, scalable, and lets companies orchestrate budgets, forecasts, models, reports, and more.
Vena doesn't have transparent pricing. It currently has a 4.3/5 on Capterra with 13 reviews. While many users mentioned that the platform is easy to use, they also mention that it is slow, especially when creating templates or uploading data.
Take a look at Vena's dashboard: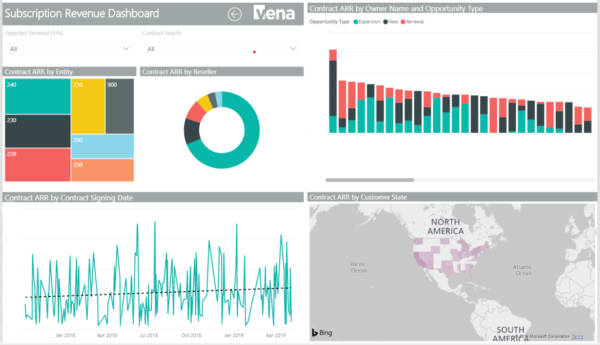 Vena's dashboard
How Baremetrics Forecast+ Can Help
Baremetrics Forecast+ provides everything a growing SaaS company could need.
With cash flow monitoring, revenue recognition, scenario planning, and more, Forecast+ helps you plan month to month and year to year. Sign up for a demo today.