We get it: you're probably already tracking your fair share of KPIs.
And you're likewise tired of hearing that this or that metric is the most important to watch.
Rather than overwhelm yourself with individual numbers without context, it's crucial that founders keep an eye on metrics that answer specific, actionable questions.
"How stable and sustainable is my business?"
"Are our customers satisfied and engaged with our product?"
"Is our company financially healthy?"
Well, tracking your net revenue churn rate can clue you in on all of the above.
In this guide, we'll highlight how to calculate yours and why this unique data point is a strong signal of your business' long-term growth.
Table of contents
be honest
How well do you know your business?
Get deep insights into churn, LTV, MRR and more to grow your business
What is net revenue churn?
Net revenue churn is the measure of lost revenue from cancellations and downgrades after factoring in new revenue from existing customers. This new revenue might include upgrades or other forms of expansion revenue.
There are a lot of moving pieces here, but you're basically measuring your churn rate minus expansion.
Keep in mind that it's possible to end up with a negative MRR churn rate. This occurs when your expansion MRR exceeds your monthly churn. For example, let's say the revenue boost from a dozen customers upgrading their accounts offsets the revenue lost from a handful of churned customers elsewhere.
As noted in our guide to negative churn, this is a rare case where a low (or even negative) number is actually a good thing and not a red flag.
How to calculate net revenue churn
Below is the basic formula for calculating net revenue churn
Net revenue churn formula
(Churned MRR – Expansion MRR) ÷ Starting MRR 30 days ago x 100
Like any other metric related to MRR, you should ideally track your net revenue churn on a monthly basis for the sake of spotting trends.
The formula above illustrates another key point about net revenue churn: calculating it requires you to already be tracking a whole slew of SaaS metrics.
If you don't already have your churned and expansion MRR handy (and your past month's MRR), you're going to have to do some digging (and likewise whip out a calculator).
This is where a tool like Baremetrics can be a life-saver. Tracking all of your must-see SaaS metrics side-by-side, our tool automatically calculates your net revenue churn alongside the other data points noted in our formula.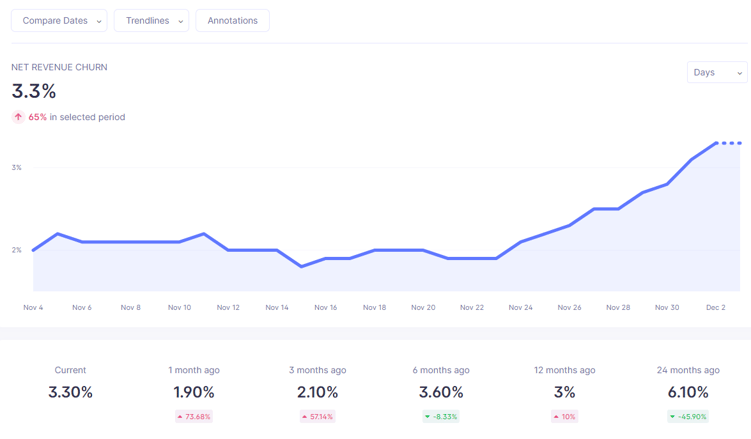 Not only do our graphs let you know at a glance how your NRC rate is doing month-to-month, but also eliminates any room for manual error in calculating it.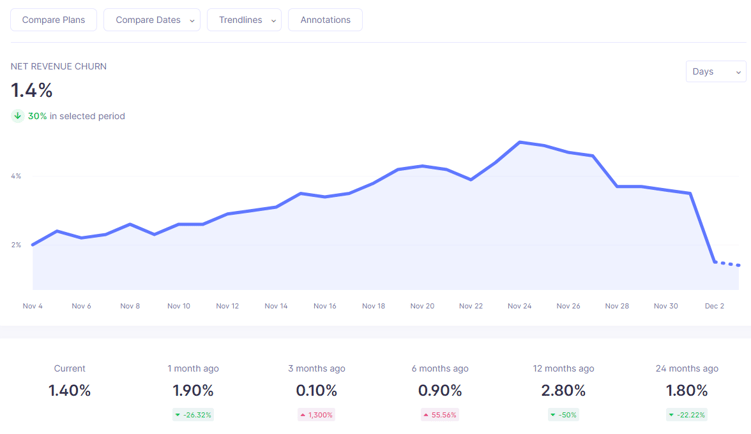 Why does net revenue churn matter so much?
Fair question! Again, it might be futile to try to "rank" net revenue churn versus other KPIs.
What makes net revenue churn notable is the fact that it encourages you to take a more holistic view of your business.
Many companies primarily measure and report on gross churn. This doesn't give you the full picture of your business' health, though.
Think about it. A churn rate of 3% or 6% might be cause for concern depending on your business, but means something totally different if it's being outpaced by expansion revenue.
This speaks to why net revenue churn matters so much in terms of perspective and how you approach customers as a whole.
Rather than obsess over "How do we keep customers from churning?" you can focus on the question of "How do we get more revenue from our existing customers?" It's kind of like the "scarcity versus abundance" mindset.
Remember that churn is an inevitable part of the SaaS business model. You can't eliminate it outright. It's arguably more proactive (for the sake of your business and sanity) to focus on expanding the value of your customers rather than fixate on losing them.
5 tactics to improve your net revenue churn rate
To wrap things up, let's look at some key tactics that do double duty of increasing your customers' value while also reducing your churn rate.
1. Uncover new opportunities to upsell existing customers
No huge surprises here. Regularly checking in with customers not only helps you build better relationships, but also makes it easier to drive upsells. From plan upgrades to new features and limited-time offers, don't neglect the power of asking.
Upsells don't have to mean reinventing the wheel, either. Heck, Baremetrics managed to see a staggering 30% annual upgrade increase by rolling out a relatively simple coupon campaign (see below).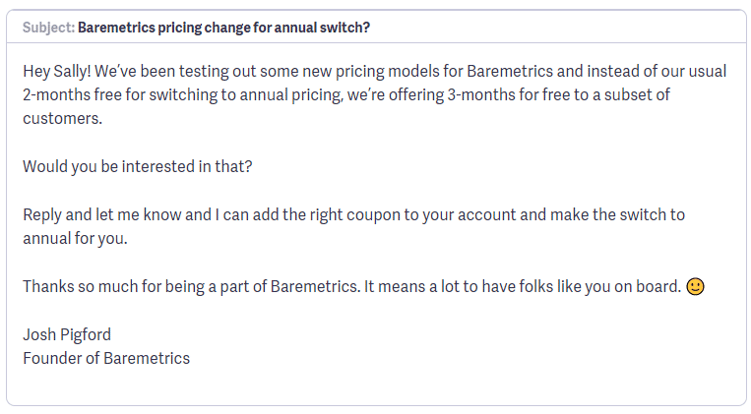 2. Encourage longer-term, higher-value contracts
This tip piggybacks on the point above.
Simply having the option for customers to upgrade to bigger and better plans as they grow means that there's always a looming opportunity to increase your MRR.
As highlighted by our upsell email, longer-term contracts (think: not month-to-month) obviously means that you can enjoy that revenue boost for longer.
Meanwhile, offering lower-tier plans allows you to lower churn by empowering customers to downgrade versus cancel outright. Either way, a tiered pricing structure gives you the best of both worlds.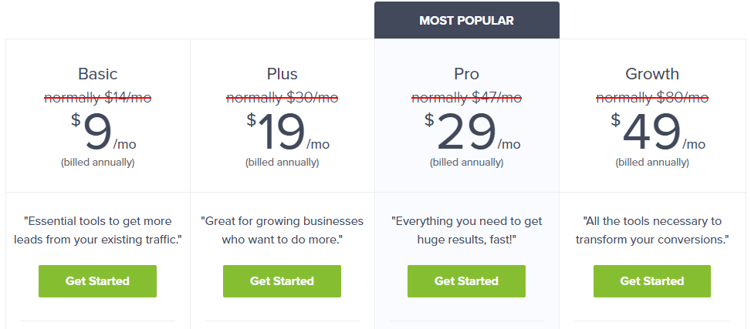 3. Roll out product add-ons and ala-carte features
Spoiler alert: you don't need to totally transform your business or build an entirely new product for the sake of expansion.
In fact, there are probably some premium services you could introduce ASAP to offset churn such as:
Premium customer service or product setup
Exclusive courses, templates or other resources for VIP users
Extra app integrations or ala-carte features of your premium products
For example, Intercom promotes a product tour add-on alongside their regular plans.

Meanwhile, Zendesk promotes custom add-ons which are off-shoots of their other products.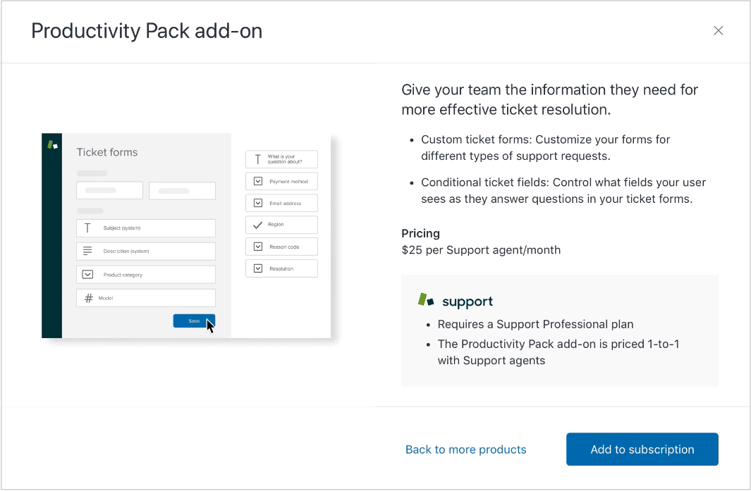 These sorts of add-ons are a shining example of how expansion revenue can offset churned customers (see below).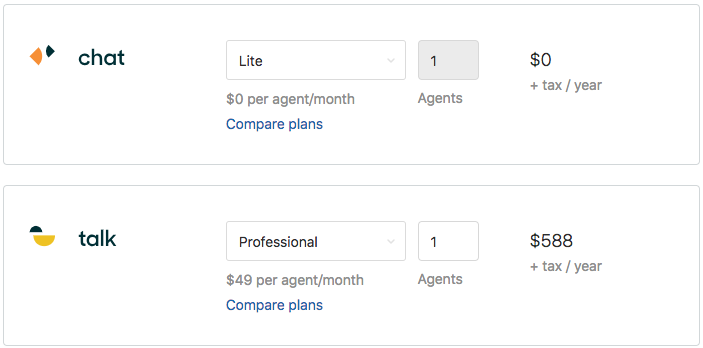 4.Consider implementing a price increase
We'll bite: SaaS pricing is complicated and price increases of any shape or form shouldn't be taken lightly.
That said, a well-executed increase can be worthwhile in the long-run. We've seen firsthand how a small pricing tweak can even result in tripled revenues.
Generally speaking, lower-cost customers tend to produce more churn. You can see in the example below our lower-tier plan has more revenue churn than our mid-tier plans.

If your business is in transitioning toward a growth phase or doesn't want to be regarded as a solely "discount" provider, an increase is worth considering.
5. Keep a keen eye on your customer churn
Last but not least, you need to have a constant pulse on your churn rate and whether or not your customers are at large are in danger of cancelling.
Once you've grown to a point where your churn is stable and under control, you can focus more on expansion.
This again highlights why a tool like Baremetrics is so important. Rather than let any of your crucial KPIs fly under the radar, we keep them all front and center for you.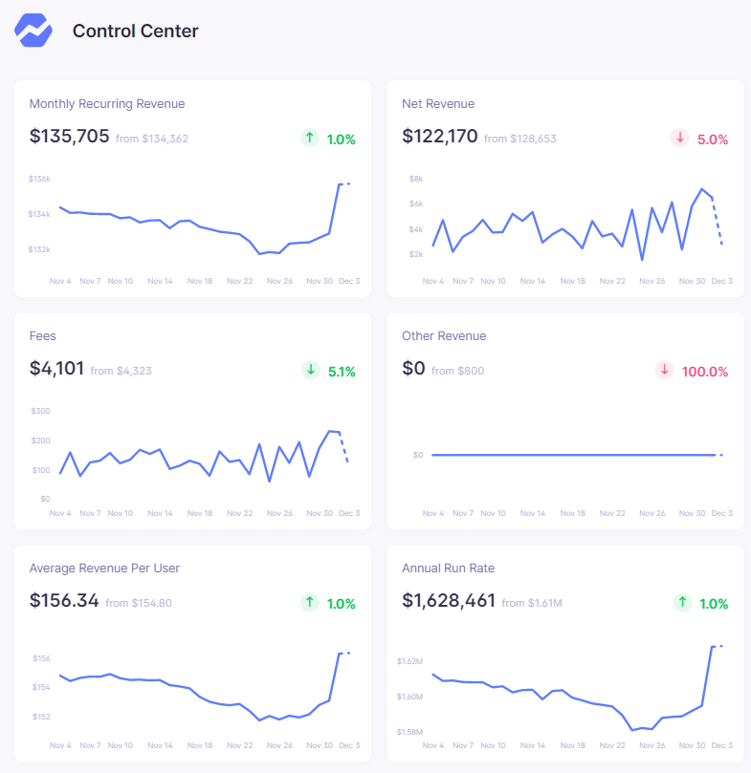 If nothing else, keeping your metrics and KPIs organized in our platform keeps you from getting overwhelmed by manually calculating numbers in a spreadsheet.
Do you have a handle on your net revenue churn rate?
A significant data point that signals the overall health of your business, tracking your net revenue churn rate should be a top priority.
Based on your month-to-month performance, you can prioritize some of the interventions we mentioned above in additional tactics such as cancellation surveys, email campaigns and more.
And it all starts by analyzing your data with Baremetrics.